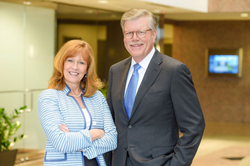 Installing a separate President and CEO in a small enterprise creates a powerful business model
Columbus, Ohio (PRWEB) October 18, 2017
Career Partners International, one of the largest career transition firms in the world, offers expertise in leadership development and succession planning. The organization's Cleveland office, Ratliff & Taylor, has put this expertise into internal action. The firm's leaders, Beth Sweeney and Mike Milby, took on separate roles as President and CEO (respectively) earlier this year and have shared their advocacy for this structure in a recent article.
Two individuals serving separately as President and CEO is commonplace in large organizations but rare in smaller businesses. Done well, however, installing a separate President and CEO in a small enterprise creates a powerful business model. Separation of the roles allows two executives of equal stature to generate a collective impact—both inside the company and across the market—that is far greater than one individual could affect.
"This model also allows a business to benefit from two executives who complement each other in terms of strengths, skills and experience," said Sweeney and Milby. "Finally, the model helps ensure business continuity on critical issues like strategy, culture, leadership and succession planning."
Sweeney and Milby elaborate on the key issues to address when designing a separate President and CEO organization model for your company. The two agree that it is critical to identify the right role for each individual, define roles and responsibilities, to stay in alignment.
Now more than ever, companies are looking for a strategic competitive advantage that advances their position in the marketplace. The answer for smaller companies could be as simple, and complicated, as implementing a separate President and CEO organizational model. Properly executed, this model will drive significant business results in the short term while creating a sustainable culture and ensure the organization remains resilient in the future.
For the full article, visit our site.
About Career Partners International
Founded in 1987, Career Partners International is a leading provider of Outplacement, Career Management, Executive Coaching and Leadership Development services from more than 300 offices in over 45 countries. Employers around the world trust Career Partners International's local market experts to provide the best possible outcomes for employees across Canada, the United States, Latin America, Europe, Middle East and Africa, and Asia Pacific regions.