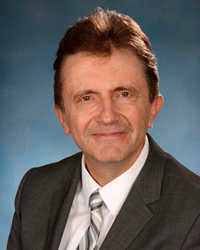 "The findings from his research could offer VA mental health providers with important, new tools to use to prevent suicide in veterans," said Dr. Thomas Hornyak, associate chief of staff for Research & Development for the VA Maryland Health Care System.
Baltimore, MD (PRWEB) October 13, 2017
Armed with a four-year, $650,000 VA Merit Award Grant, Teodor Postolache, MD, a physician, surgeon, and researcher at the VA Maryland Health Care System with a combined affiliation at the VA Rocky Mountain Mental Illness Research Education Clinical (MIRECC) for Suicide Prevention in Rockville, Colorado and at the University of Maryland School of Medicine, seeks to explore if a parasite known as Toxoplasma gondii might alter human behavior. His research specifically seeks to determine if U.S. veterans who have previously attempted suicide have a higher level of the parasite infection than those without a history of the parasite. This multicenter research study will include veterans at the Baltimore, Atlanta and Denver VA Medical Centers, and all participants will be carefully diagnosed, and evaluated for a history of suicidal behavior and suicidal ideation, as well as factors known to interact with inflammation and tested for Toxoplasma gondii.
The research examines if markers of inflammation—such as increased synthesis of certain molecules called kynurenines and certain neuropsychological measures, such as impulsivity and executive function—are associated with Toxoplasma gondii infection. Mediating its link with suicide, Postolache noted that European countries plagued by a higher level of Toxoplasma infection are also plagued by higher suicide rates. To date, no direct evidence links those who committed suicide to the parasite infection, but Postolache observes that few scientists are interested in exploring the possibilities.
"Suicide prevention for Veterans is a critical mission for VA and an important focus of VA Research. Postolache's study is designed to reveal biological correlates of suicidal behavior, building upon prior evidence to study directly whether specific markers of infection or inflammation are associated with suicide attempts," said Dr. Thomas Hornyak, associate chief of staff for Research & Development for the VA Maryland Health Care System. "The findings from his research could offer VA mental health providers with important, new tools to use to prevent suicide in veterans."
Also for the first time, the study will investigate if inflammation, combined with a set of molecules called kynurenines, and personality traits known to be related to suicidal behavior, play a role in mediating the link between Toxoplasma gondii suicide attempts. "Our study will be a critical step toward designing
interventional/experimental protocols and clinical trials to develop and test badly needed 'out-of-the-box' interventions for improving suicide prevention and suicide risk-management efforts," he adds.
Being able to uncover and address modifiable environmental risks leading to suicidal behavior, violence and depression and to tackle complex problems are what keeps Postolache focused and driven to unlocking any connections between the parasite and mental illness.
"The goal is to identify veterans who might have an increased risk of suicidal behavior, and to identify possible treatment targets to reduce their risk", said Postolache. Moreover, if results are confirmed, the study may lead to future education efforts to reduce infection by controlling food and non-food related risk factors that may prevent a sizable proportion of suicidal behavior.
Mounting evidence suggests that this parasite is associated with psychiatric conditions, such as schizophrenia and bipolar disorders, and behavioral abnormalities, such as suicidal behavior. Already known to alter rat behavior, Postolache wants to know its adverse effects on humans. In rats, the parasites cause them to lose their fear of cats, even becoming attracted by the smell of cats. Research indicates that the rat's loss of fear is due to the reduced connections of the amygdala—or, the central structure of the brain circuit implicated in fear control-- with other parts of the brain. The impairment of its function may reduce fear when it should be present. By inhibiting the rodents' fear of cats, the parasite ensures its own existence since Toxoplasma gondii can only reproduce in a cat's digestive tract. An infected rat killed and eaten by a cat delivers the parasite to the cat's gut where it can reproduce.
Toxoplasma gondii infects most warm-blooded species, including humans. Humans can get infected with Toxoplasma gondii in a variety of ways, such as by eating undercooked meat of infected animals, consuming water or food contaminated by infected cat feces like unwashed produce, by blood transfusions and organ transplants, or through placenta from an infected mother to baby. In healthy hosts, this tiny intracellular parasite usually takes up residence in the muscle, or the brain, and is kept in check by the immune system and causes minimal, if any, symptoms. In patients with compromised immune systems, like those with HIV/AIDS, the parasite can "reactivate" and cause a severe brain infection. Similarly, an infection during pregnancy can result in long-term damage to the newborn's brain and eyes. Until recently, clinicians believed that the infection--acquired well after birth in individuals without a compromised immune system--does not cause any problems.
The idea of a parasite slipping into human brains and changing their hosts' personalities has been long-accepted fodder for science fiction writers, but many in the scientific community are accepting and recognizing that an infection can lead to mental disorders at least in a proportion of individuals. Published in 2012 in the American Medical Association Journal, a study in Denmark with mentally challenged patients found that those who attempted suicide also had a positive antibody based test for Toxoplasma gondii infection.
# # #
The VA Maryland Health Care System (VAMHCS) provides a broad spectrum of medical, surgical, rehabilitative, mental health and outpatient care to veterans at two medical centers, one rehabilitation & extended care center and six outpatient clinics located throughout the state. More than 52,000 veterans from various generations receive care from VAMHCS annually. Nationally recognized for its state-of-the-art technology and quality patient care, VAMHCS is proud of its reputation as a leader in veterans' health care, research and education. It costs nothing for Veterans to enroll for health care with the VA Maryland Health Care System and it could be one of the more important things a Veteran can do. For information about VA health care eligibility and enrollment or how to apply for a VA medical care hardship to avoid future copayments for VA health care, interested Veterans are urged to call the Enrollment Center for the VA Maryland Health Care System, Monday through Friday, from 8 a.m. to 4:30 p.m. at 1-800-463-6295, ext. 7324 or visit http://www.maryland.va.gov.