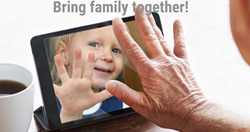 LOS ANGELES (PRWEB) October 17, 2017
Symmpl inc. (Symmpl.com) has launched their easy internet for senior citizens iPad app. Symmpl was designed by seniors for seniors. Their new iPad app is available in the Apple app store and through Symmpl's website for a 30 day free no credit card required trial. After the trial period the Symmpl iPad app is available for $9.95 per month and comes with a lot of extras.
To learn more about Symmpl's amazing new iPad app for seniors visit our website at Symmpl.com
About Symmpl:
Symmpl is a revolutionary app for senior citizens who find the internet a confusing and daunting place. Symmpl makes it easy with voice and/or touch navigation through the assistance of Symantha, a virtual guide to sharing emails, photographs, health, and recreation. Symmpl also makes shopping, travel, and much more "symmpl" for any senior user regardless of their technology skills.
Symmpl's vision is to help seniors with a self-paced educational tool that will allow them to learn to use the internet efficiently and easily, so they will be able to connect with friends and family, shop, relay health information to friends and family, and of course get the information they want or need from the internet.
There's no better way to show you how fantastic Symmpl is than for you to see it in action. Symmpl has a video demonstration online via YouTube which can be viewed at https://www.youtube.com/watch?v=EMxFAQX7J10
To learn more about Symmpl please visit our website at Symmpl.com