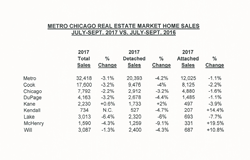 Lower inventory levels clearly had an impact on third-quarter housing sales, helping boost prices and reduce market times, while leading to a small reduction in total sales,
ELGIN, Ill. (PRWEB) October 18, 2017
A limited inventory of listings spurred faster sales in the metropolitan Chicago housing market during the July-September quarter. According to an analysis by RE/MAX Northern Illinois, homes sold during the quarter averaged 68 days on the market, the lowest for any quarter since RE/MAX began tracking that statistic in 2005.
Reflecting strong demand, the median sales price rose to $241,000, up 4.8 percent from the same period last year, while sales activity in the seven-county metro area totaled 32,418 units, down 3.1 percent.
The 35,189 listed homes on the market on Sept. 30 were 6.9 percent fewer than a year ago and equaled a 3.25-month supply based on the pace of third-quarter sales.
"Lower inventory levels clearly had an impact on third-quarter housing sales, helping boost prices and reduce market times, while leading to a small reduction in total sales," explained Chris Calomino, marketing communications manager for RE/MAX Northern Illinois.
Third-quarter home sales this year equaled 88.7 percent of second-quarter sales. It was the first time since 2010 during the Great Recession that third-quarter home sales were less than 94 percent of sales recorded in the year's second quarter.
"But this is an entirely different situation than in 2010," said Calomino. "What's holding the market back now is a lack of entry-level and mid-level inventory. Interest rates remain attractive, and the job market continues to improve."
The home sales data used for the RE/MAX analysis is collected by MRED, the regional multiple listing service. It covers detached and attached homes in the Illinois counties of Cook, DuPage, Kane, Kendall, Lake, McHenry and Will. Detached homes are typically stand-alone single-family dwellings. Attached homes include condominium and cooperative apartments along with townhouses.
Sales activity in September was consistent with overall third-quarter results, RE/MAX reports. September sales were down 3.6 percent to 9,502 units in the metro area compared to the same month last year, while the median sales price rose 5.2 percent to $231,000. Average market time shortened to 71 days, a 10 percent reduction.
Detached Homes
Sales of detached homes totaled 20,393 units during the third quarter, 4.2 less than during the same period last year. That accompanied an 8.5 percent decline in the inventory of detached listings. The median sales price gained 4 percent to $260,000, and average market time shortened to 77 days, down from 82 days a year earlier.
Among the seven metro counties, only Kane saw an increase in detached-home sales during the quarter, but all counties, as well as the City of Chicago, recorded increases in the median sales price. Interestingly, the largest declines in sales numbers and the biggest increases in median price occurred in the same two counties, McHenry and Lake. Sales in McHenry fell 9.1 percent to 1,259 units, while the median price rose 9.5 percent to $230,000. Sales in Lake were off 6 percent to 2,320 units, and the median price gained 8 percent to $279,750.
Detached homes were selling fastest in Kendall and Will counties, which had average market times for the quarter of 64 days and 66 days, respectively.
Attached Homes
The attached home market turned in somewhat stronger third-quarter results than did the detached home market. Attached home sales fell just 1.1 percent to 12,025 units compared to the same period of 2016. The median sales price gained 6.1 percent to $201,500, and average market time declined to 52 days from 63 days a year earlier.
Attached sales activity rose in three counties: 19.5 percent in McHenry, 14.4 percent in Kendall and 10.8 percent in Will. All seven counties and Chicago recorded increases in the median sales price for attached homes, led by gains of 7.2 percent in Will and 6.8 percent in Kendall.
Cook County, which accounted for 67.6 percent of attached sales, had a 2.2 percent decline in transactions and a 5.7 percent increase in the median sales price to $240,000.
Average market time was 55 days or less in all counties and Chicago. Speediest of all was Kendall, with an average of 27 days.
RE/MAX agents consistently rank among the most productive in the industry. In 2016, RE/MAX Northern Illinois agents averaged 18 transaction sides. RE/MAX has been the leader in the northern Illinois real estate market since 1989 and is continually growing. The RE/MAX Northern Illinois network, with headquarters in Elgin, Ill., consists of more than 2,250 sales associates and 105 independently owned and operated RE/MAX offices that provide a full range of residential and commercial brokerage services. Its mobile real estate app, available for download at http://www.illinoisproperty.com, provides comprehensive information about residential and commercial property for sale in the region. The northern Illinois network is part of RE/MAX, a global real estate organization with 110,000+ sales associates in 100+ nations.
####
EDITOR'S NOTE: RE/MAX® is a registered trademark. Please spell in all caps. Thank you. This release is posted at blog.illinoisproperty.com.