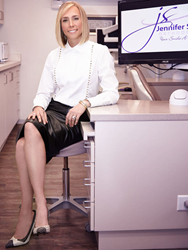 Dental monitoring is revolutionary. It empowers patients to be true partners in their own healthcare journey.
NEW YORK (PRWEB) October 24, 2017
Jennifer Stachel Orthodontics is excited to now offer all patients innovative and proactive dental monitoring services.
Dental monitoring services combine technology with strong orthodontic record keeping. It enables orthodontists to track a patient's process in real time through technology-based tools such as 3D modeling, smartphone apps, and tracking technology. Patients and orthodontists then have 24/7 access to their progress details. If something needs to be corrected through orthodontic care, it will be identified sooner because of the proactive dental monitoring program.
According to Jennifer Stachel, the orthodontist at Jennifer Stachel Orthodontics, "Dental monitoring is revolutionary. It empowers patients to be true partners in their own healthcare journey. Typically, patients go weeks to months without having an appointment. A lot can change during this time. Our dental monitoring services ensure that we catch any of these issues earlier."
The process starts when clients come into the orthodontics office for a dental monitoring appointment. The orthodontist uses several tools to measure the starting condition of the mouth including 3D modeling, a cheek retractor, and detailed photos. Clients use a smartphone app to document their progress at regular intervals by uploading photos. The orthodontist teaches patients how to properly take these photos with their smartphones. These photos are available for the orthodontist to view via a dashboard at any time.
For patients that use Invisalign or similar products, Dental Monitoring GoLive technology helps to ensure that patients change their aligners at the right time by sending messages to their smartphones. Together, these dental monitoring tools and techniques reduce the number of times that patients have to go into the office, which saves money and promotes better outcomes.
As Dr. Jennifer Stachel points out, "the more information we have about orthodontic progress, the better the outcome. Sometimes a patient will be able to have braces or other dental appliances removed earlier because we can see progress happened faster than we expected."
About Jennifer Stachel Orthodontics
Purchased by Dr. Jennifer Stachel in 2012, Jennifer Stachel Orthodontics is a well-known and respected orthodontist in NYC with more than 10 years of experience. Jennifer Stachel Orthodontics specializes in orthodontics and Invisalign, and also provides dental monitoring, Trudenta headache relief, and teeth whitening treatments. To learn more or to request an appointment, call (212) 877-7177, visit the office at 315 W 57th Street, Suite 204, New York, NY, 10019, or go to https://www.stachelorthodonticsnyc.com/.