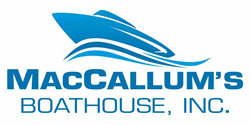 Our longstanding relationship with Glastron made adding another Groupe Benteau product line a natural fit
EPSOM, N.H. (PRWEB) October 20, 2017
MacCallum's Boathouse presently sells Glastron boats, another division of Groupe Beneteau, and is currently their longest standing dealer at over 60 years. Their onsite staff is of third generation while a fourth generation member, Peter MacCallum's son Donald, has followed the path and is working at the dealership while attending college. Additional marine services provided by MacCallum's Boathouse include service and storage at their on-water facility on Northwood Lake.
"We are pleased to add Four Winns to compliment the products offered by Glastron. Our longstanding relationship with Glastron made adding another Groupe Beneteau product line a natural fit," added Peter MacCallum, president at MacCallum's Boathouse.
"It's an exciting time to have MacCallum's Boathouse join our distribution team. We look forward to working with Peter and the team at MacCallum's Boathouse as they will add to our already dynamic dealer network in New Hampshire," noted Andy Lindsay, V.P. Sales Americas for Four Winns boats, a division of Groupe Beneteau.
The official introduction of Four Winns was at the annual Fall Open House held at the dealership on October 6-14. Glastron and Four Winns boats were available and test driven by customers on beautiful Northwood Lake.
About MacCallum's Boathouse, Inc.
In business for over 69 years and third generation owned, MacCallum's Boathouse is a full service boat dealership serving the Lakes Region of NH. MacCallum's Boathouse offers factory authorized sales and service for: Nautique, Four Winns and Glastron, Harris Flotebote and engines by Mercury, Mercruiser, Volvo and PCM.
For more information visit maccallumsboathouse.com