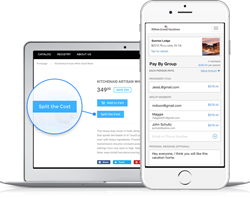 Many of our online merchants' customers need to pay together. Pay By Group is the perfect solution
SAN FRANCISCO (PRWEB) October 23, 2017
U.S.-based Pay By Group and Denmark-based Yourpay today announced their partnership to bring Pay By Group's group payment technology directly to the online checkout flow of more than 5,000 merchants across Europe. In addition to its proprietary checkout solution, Yourpay also serves merchants through direct plugins on leading e-commerce platforms such as Shopify, WooCommerce, PrestaShop, Open Cart, Dandomain, and Magento. The partnership with Pay By Group will also add group payments to these plugins and more.
"We're excited to partner with Pay By Group because many of our online merchants' customers need to pay together. Pay By Group is the perfect solution," said Mathias Gajhede, CEO of Yourpay. The partnership is also expected to boost transaction volume for Yourpay because group purchases tend to be 15% larger than single payer transactions. "This is a win-win for everyone — merchants, online shoppers, and our two companies," added Camilo Acosta, CEO of Pay By Group.
The partnership marks the continuing rise of group commerce. Major companies such as Uber, Airbnb, and Lyft have in recent years added the ability for people to split the cost of a shared expense. By offering group payments as a service at the gateway level, thousands of small and medium sized companies in Europe now have a turn-key solution that large companies typically spend millions of dollars building in-house.
About Pay By Group
Pay By Group is an embedded, white-label checkout option that allows friends or family to collaborate and split the cost of a shared purchase. The company has offices in San Francisco and Guadalajara, Mexico. The company's investors include SparkLabs Global Ventures, Great Oaks Capital, 500 Startups, JetBlue co-founder John Owen, Facebook VP of Platform & Marketplace Deb Lui, serial entrepreneur Karl Jacob, early Twitter and Square investor Greg Kidd, and Bryan Bradford. The company was founded in 2011.
About Yourpay
Yourpay is a payment facilitator setting new standards in the payment industry. Focusing on transparency, machine learning, and artificial intelligence, the company offers merchants an advanced yet convenient solution to accept payments and grow revenue online and in-store. The market has responded quickly since its founding in 2014: the company has experienced near-exponential growth of more than 100% per year. Yourpay is headquartered in Copenhagen, Denmark.