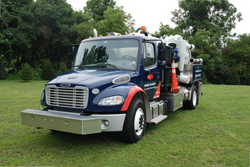 "We purchased the Vactor HXX Paradigm excavator to improve our ability to meet the demands of our growing customer base," said Kyle G. Sareyka, chief engineer and chief operating officer, Master Locators
GLEN MILLS, Pa. (PRWEB) October 23, 2017
Master Locators, Inc. today announced that it has added a Vactor* HXX Paradigm* compact vacuum excavator to its growing fleet of subsurface utility engineering (SUE) equipment, tools and vehicles.
The HXX Paradigm is ideally suited for SUE involved in civil, road, municipal, commercial, industrial and residential projects. Chosen for its many benefits, the Paradigm is minimally invasive reducing project reconstruction costs and damage to surrounding areas.
"We purchased the Vactor HXX Paradigm excavator to improve our ability to meet the demands of our growing customer base," said Kyle G. Sareyka, chief engineer and chief operating officer, Master Locators. "The capabilities of this new truck provide tremendous versatility and a significant increase in productivity for our clients. It also keeps us on the leading edge of technology and enables us to improve our service offerings."
"This excavator is one of the newest offerings from Vactor," added Greg Finkle, engineering manager, Master Locators. "We are looking forward to using this in a variety of applications especially because it can quickly be switched from air to hydro excavation. This means we can begin an excavation with air for dry backfill, and switch to water for tougher conditions when they are encountered."
About Master Locators, Inc.
Master Locators, Inc. is a leading company in the subsurface utility engineering (SUE) field serving contractors, designers, engineers and project owners from concept to design and on through to construction. At Master Locators, we are a passionate, fully integrated team – from highly qualified, expert field technicians and project coordinators to talented engineers and customer service representatives – who thrive on providing consistent, unmatched state-of-the-art utility locating and excavating services. Master Locators also provides educational programs designed to enable customers' complete understanding of SUE technologies. Visit http://www.masterlocators.com to learn more.
*Vactor and Paradigm are registered trademarks of Vactor Manufacturing, Inc.
FOR FURTHER INFORMATION:
Engineering:
Greg Finkle, Engineering Manager
+1 610-358-0172 x103
greg.finkle(at)masterlocators(dot)com
Business Development:
Kevin Sareyka, Business Development Manager
+1 610-358-0172 x401
kevin.sareyka(at)masterlocators(dot)com
Media Relations:
Beth Cohen, National Manager, Marketing and Communications
+1 610-358-0172 x403
beth.cohen(at)masterlocators(dot)com