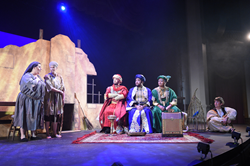 SALT LAKE CITY (PRWEB) November 01, 2017
Salt Lake Community College's Grand Theatre, in partnership with the University of Utah School of Music and Sinfonia, is proud to present "Amahl and the Night Visitors" and "A Christmas Carol," running three days only, Nov. 30 – Dec. 2.
Experience two operettas in one evening that are sure to put you in the holiday spirit. In Act I, witness "Amahl and the Night Visitors," with music and lyrics by Gian Carlo Menotti. When Amahl, a poor, crippled shepherd boy, meets the Three Kings following the star to Bethlehem, he is inspired to offer a simple gift to the Christ Child. Through his compassion, a miracle occurs.
In Act II, enjoy the beloved Charles Dicken's classic, "A Christmas Carol," with music and lyrics by Utah locals, Mike Leavitt and Anthony Buck. When Ebenezer Scrooge is visited by three spirits on Christmas Eve, he has the opportunity to open his heart and discover the joy that comes from generosity.
Under the direction of Bob Breault, with Daniel Johnson co-directing "A Christmas Carol," the creative team includes Jeffery Price as musical director and Kyra Furman as choreographer.
Tickets are $20 and are available at http://www.GrandTheatreCompany.com.
The landmark Grand Theatre is a 1,100-seat venue located at Salt Lake Community College's historic South City Campus, home of the innovative and state-of-the-industry Center for Arts and Media at 1575 South State Street in Salt Lake City. The theatre dates back to the 1930s when it was part of South High School, which SLCC purchased in 1989, a year after the school closed. The Grand Theatre began offering productions that year and has since with great care and expense retained its Depression-era charm and attraction while also incorporating the latest technology in lighting and sound. For the past three years it has been an official screening venue for the annual Sundance Film Festival. Every season the Grand is host to award-winning theatre and dance productions and concerts that attract arts enthusiasts from all along the Wasatch Front.