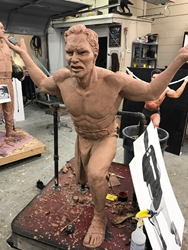 Provo, UT (PRWEB) October 31, 2017
Artist Matt Glenn of Big Statues in Provo, Utah has been commissioned by the CEO of Delta Defense, Timothy Schmidt, to create this life size masterpiece. This bronze statue, titled "The Atlas," is of a man who, using all of his strength, is lifting a globe above his head; an accurate representation of what the company believes in and stands for.
This detailed custom statue was created and designed with the purpose of enveloping the company's mission, which, in summary, is to provide gun-owners with the training and knowledge of how to make the right decisions when defending the people who they love. The bronze statue has just been completed and sent to the Delta Defense headquarters located in West Bend, Wisconsin and will be unveiled in the next few weeks. It will be displayed in the entrance of the building, inspiring its clients, members, subscribers, and employees to carry the duty of protecting their loved ones, just as Atlas carries the globe.