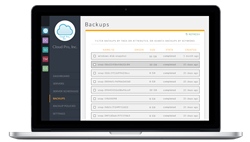 "We worked closely with several of our long-term MSP clients in developing our partner network, to ensure we provide a first-rate service to MSPs across industries, from small business to enterprise level." - David Gildea, CloudRanger CEO
Chicago, IL (PRWEB) October 31, 2017
CloudRanger, the simple backup solution for Amazon Web Services (AWS), today unveiled its official Managed Service Provider (MSP) Partner Program, allowing MSPs to implement CloudRanger's server management to more proficiently serve clients.
"Customer feedback has always played a vital role in guiding our business strategy, and developing our MSP program was no exception," said David Gildea, CloudRanger CEO. "We worked closely with several of our long-term MSP clients in developing our partner network, to ensure we provide a first-rate service to MSPs across industries, from small business to enterprise level."
CloudRanger works with MSPs of all sizes, worldwide, with some of its largest MSP partners performing nearly 20,000 backups per week. The MSP program is tailored to meet the unique needs of service providers, and to individual MSP partners.
"We strategically select partners based on their ability to exceed market expectations, which is why we're delighted to partner with CloudRanger. The team's openness to feedback has consistently led to new, innovative offerings," said Mike Jenkins, Founder and CEO, The Instillery. "As a result, our customers benefit from automated backups and cloud resource scheduling, which enables them to focus on the things they do best and get back to business, while we take care of the rest."
CloudRanger's Server Management Platform, released in June 2017, provides more control over the cloud by offering users effortless scheduling and backup policies, while providing a bird's eye view of the entire server system from one easy-to-use dashboard, ultimately saving time and money.
"The flexibility and accessibility of cloud providers like AWS continues to drive more businesses to the cloud," said Karen Murphy, Cloud Partner Manager, Version 1. "CloudRanger's simple, visual platform makes server management straightforward, and was an obvious fit for our business. Its automation and ease-of-use enables our team to more efficiently serve a wide range of clients, ultimately helping us to deliver a superior service."
In addition to automated scheduling and backup policies, MSPs also have access to CloudRanger's multi-region backup and file-level recovery for clients, to deliver enhanced disaster recovery and business continuity.
 
About CloudRanger
CloudRanger delivers cloud server management software for businesses, MSPs and enterprises. Its easy-to-use graphical interface offers users scheduling and backup policies to save time and money. An overall view of the entire server system gives users the most control over their cloud, while delivering enhanced disaster recovery management. CloudRanger is an Amazon Web Services (AWS) Advanced Technology Partner. Clients include HP, NASCAR and MetLife. To learn more, visit http://www.cloudranger.com.
###