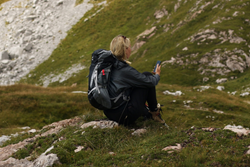 With Gotoky, our backers on Kickstarter now have the assurance that they can have fun hiking and exploring in remote locations and continue to stay connected.
EINDHOVEN, Netherlands (PRWEB) November 08, 2017
After making a strong connection with crowdfunders who want to ensure they stay connected in remote locations or in situations where cellular networks go off-line, Gotoky – a device that enables iOS and Android smartphone users to create their own personal network – is now available during a new round of crowdfunding on Indiegogo InDemand after a successful campaign on Kickstarter.
The advanced secure off-grid communication device raised more than $38,000 from crowdfunding backers on Kickstarter.
For Gotoky Co-founder and CEO Denis Loncar, who came up with the concept for Gotoky after he was injured while hiking in the mountains and had no signal on his smartphone and no way to contact anyone for help, the success of the Kickstarter Campaign confirms there is a need for a device to keep people connected – especially in remote locations.
"My story had a happy ending, because I was rescued by some other hikers who happened into my area, but it could have very well ended in disaster," Loncar said. "Our backers on Kickstarter now have the assurance that they can have fun hiking and exploring in remote locations and continue to stay connected."
Loncar adds that Gotoky is also perfect for people who live in remote areas, for travelers abroad who want to communicate for free and avoid exorbitant roaming charges, and for professional and working teams that need to stay in constant group communication in remote working environments.
When Gotoky is paired with a smartphone, users can securely:

Talk (1-to-1 and group communications)
Send texts (1-to-1 and to a group)
Activate an 'Emergency Location Beacon' when in distress
Use navigation
Send GPS locations to other Gotoky users on detailed off-line topographic maps
Use real time tracking
Create events,
Ping a location
Gotoky works over standard license-free radio frequencies and it doesn't require any cellular infrastructure or satellites. The device automatically and securely relays messages over other Gotokys in the user's area. The range can be extended beyond point-to-point, allowing users to make their own network. Loncar says the average distance covers 9.3 miles (15 kilometers), which can be extended to nearly 19 miles (30 kilometers) with more users.
For more information and to purchase Gotoky, visit the Gotoky Campaign Page on Indiegogo InDemand.
About Gotoky
Gotoky is a Dutch-based company founded by Denis Loncar (CEO) and Katja Lipicnik (CMO) two years ago to create world's best mesh, radio frequency (RF) digital communication device that enables communication in areas without available Wi-Fi or mobile networks. In 2015, Gotoky was selected among 10.000 companies worldwide to participate in elite hardware HighTechXL Accelerator in Eindhoven, the Netherlands. The company was recognized as the best startup of generation. Finalist of Central European Startup award 2016 and year later awarded as one of the top 100 startups of Central Europe. For more information, visit http://www.gotoky.com.