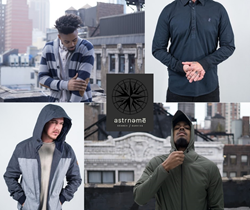 VERNON, Calif. (PRWEB) November 02, 2017
Plummeting temperatures means it's time to evaluate what outwear is in the closet and is still in fashion. Live in the everyday with adventurous, affordable styles from astrneme. Built for comfort and the pursuit of passion in each individual, the laid-back brand's focus is to create forward thinking, contemporary apparel with strong transitional appeal. While astrneme hails from California, create looks from coast to coast as well as globally with the sophisticated styles from this collection. Whether a world traveler or more the artistic, active type, transition from cruising around a new town to drinks and dinner with astrneme – functional fashion for everyday life.
Pioneers in modern fashion, astrneme offers elevated fabrics, details and styling. Innovation through creation, astrneme is built on the motivation to pursue personal passion – whatever that may be. An embodiment of the brand's message, astrneme partners with all genres of people pursuing passions in music, art and sports to tell inspirational stories of their journeys and celebrate their dreams.
Praised by the fashion industry since it's unveiling, astrneme's Spring 2018 Line, was featured in the WGSN SS18 Trend Report with astounding response and approval. Big things on the horizon for this west coast brand.
When the temperature dips, don't panic. astrneme's hoodies, jackets and wovens are the perfect solution for men that like to keep things casual while still looking snazzy and for holiday gifts for stylish men. Explore the comfortable, creative designs from astrneme this season.