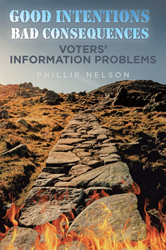 OWEGO, N.Y. (PRWEB) November 06, 2017
Author Phillip Nelson, PhD., has released his latest book "Good Intentions – Bad Consequences: Voters' Information Problems" which is a conservative's innovative guide to understanding voter behavior. The book provides evidence of a conflict in a Democracy between two main voter motivations and the implications of that conflict for redistributional and environmental policy. First, some voters want to "do good" but are unaware of the unintended consequences of their policy choices. Then, there is the aggregate of voters focused on their own self-interest.
Nelson believes that universities are the heartland of the "do-gooders", particularly in the humanities and the non-economic social sciences. Their liberalism is well-known. "One of the things that make this book unique is its focus on why that is so and what that means for policy," said Nelson. "Professors advocate in favor of the same causes for government that charities advocate for individuals without looking at the side effects of the former. They have no special knowledge to justify this advocacy. Indeed, their advocacy occurs in part because they ignore information."
To learn more please visit Nelson's website: Good Intentions – Bad Consequences where a more extensive overview of the book is available.
"Good Intentions – Bad Consequences: Voters' Information Problems"
By Phillip Nelson
ISBN: 978-1-5246-7379-6
Available at Good Intentions – Bad Consequences, Amazon, and Barnes & Noble
About the author
Phillip Nelson received his PhD in Economics from Columbia University where he taught in addition to the University of Chicago and Binghamton University. He specialized in two fields during his professional career. The first is information economics in which he produced seminal work in consumer economics. The second is public choice in which he has written many articles and the book "Signaling Goodness." This book melds these two fields producing new insights about voter information problems. He has spent a lifetime of teaching graduate courses in these specialties and microeconomic theory and has written countless articles published in scholarly journals and most recently with the Wall Street Journal.
For review copies and general inquires please contact:
LAVIDGE – Phoenix
Lauren Dickerson
ldickerson(at)lavidge(dot)com
480-998-2600