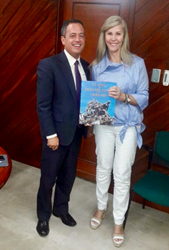 . "As Colombia continues to grow, I'm happy to play a very small part in bringing creative ideas to help accelerate the economic development of the country for all people."
Phoenix, Arizona / Medellin, Colombia (PRWEB) November 16, 2017
Phoenix, Arizona – Radix Law's principal attorney, Jonathan Frutkin, author of the book Equity Crowdfunding: Transforming Customers into Loyal Owners, was invited to Colombia to discuss methods of funding public projects in both Medellin and Cali.
Frutkin recently met with Governor Dilian Francisca Toro of Valle del Cauca, a Colombian state with more than 4.5 million people. Governor Toro, a physician, was previously the President of the Senate for the Republic of Colombia.
Frutkin also met with various financial ministers in the state government in Cali, Colombia to discuss methods for funding government projects throughout the state. Frutkin also toured Buenaventura, the largest seaport for Colombia accessing the Pacific Ocean and met with project engineers working on several social development projects there.
Frutkin was later featured at the "Ciclo de Foros Empresariales", a business forum held in Medellin, Colombia. Frutkin spoke on the subject of crowdfunding in front of a capacity crowd at the Club Medellin, in a discussion moderated by Andres Guerra, the head of Fundacion Sembremos Pais (the "Foundation of our Country's Growth"). Mr. Guerra is the leader of the Central Democratic Party in Antioquia, Colombia, a party started by former Colombian President Alvaro Uribe.
"I have done business Colombia for several years, and I am honored to be invited to work with leaders like Governor Toro and Leader Guerra," said Frutkin. "As Colombia continues to grow, I'm happy to play a very small part in bringing creative ideas to help accelerate the economic development of the country for all people."
In addition to his work in crowdfunding, Frutkin has a long history as a business executive and owner. He has owned a website design business, a software company, a real estate development company and was the developer for a national ice cream chain. He has also appeared frequently in the media, including international publications like The Economist, Kiplinger Personal Finance and The Washington Post. He is a frequent media commentator on television, on the radio and in print. Just recently, Frutkin was listed as one of Arizona's Top 100 Lawyers of 2017.