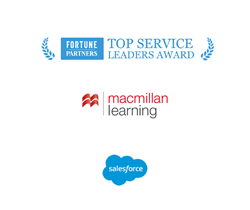 As the Customer Experience team of an education company we are open and excited about applying insights, which aligns with our corporate mission of improving lives through learning. --Marcie Smith, VP, Customer Experience, Macmillan Learning
NEW YORK (PRWEB) November 08, 2017
Macmillan Learning today announced Marcie Smith, Vice President, Customer Experience, was selected as a winner of FORTUNE™ Partners Top Service Leader Awards. Sponsored by Salesforce, these awards recognize individuals who have helped transform their customer service organizations through their commitment to customer experience, leadership and innovative service practices.
"The bedrock of our support strategy is to both proactively and reactively deliver transparent, dependable, empathetic, and personalized support to our customers," stated Macmillan Learning CEO, Ken Michaels. "Since assuming ownership of our Customer Experience operation, Marcie's been a champion of data-driven decision making to drive advocacy with internal stakeholders. This emphasis on data analysis and feedback loops is carried throughout all points in the customer journey."
Prior to joining Macmillan, Marcie had a 15-year career with financial service start-ups, demonstrating a keen ability to partner with cross functional teams to deliver business results. She brings sales, operations, and customer care expertise to a fast-moving educational landscape.
"Our customer training and onboarding process is an evolving reflection of our customers' needs, as well as the known confusion points in our products," said Marcie Smith. "We are constantly learning from our customers and then applying what we learn to our products and processes. As the Customer Experience team of an education company we are open and excited about applying insights, which aligns with our corporate mission of improving lives through learning."
"Customers expect great service from every company at every interaction, but businesses often struggle to meet their growing expectations," said Bill Patterson, SVP and GM, Salesforce Service Cloud. "Macmillan Learning is raising the bar when it comes to customer service through its commitment to delivering personalized, connected customer experiences."
FORTUNE™ Partners Service Leaders Awards, sponsored by Salesforce, recognize business leaders within companies who make significant contributions to improving the customer service experience. To be considered for the award, nominees' companies were required to be headquartered in the United States, have between 1,001 and 9,999 employees and be at least five years old. Nominees were required to complete a survey about their customer service experiences, and an impartial, independent panel of leading industry experts evaluated their responses using agreed-upon criteria to determine our 30 finalists. A panel of judges featuring FORTUNE editors, and customer service experts Shep Hyken and Kerry Bodine then narrowed the list down to the 10 award winners.
Winners will appear in the November 2017 print issue of FORTUNE and online at http://for.tn/2gO3iIR.
About Macmillan Learning:
Macmillan Learning improves lives through learning. Our legacy of excellence in education informs our approach to developing world-class content with pioneering, interactive tools. Through deep partnership with the world's best researchers, educators, administrators, and developers, we facilitate teaching and learning opportunities that spark student engagement and improve outcomes. We provide educators with tailored solutions designed to inspire curiosity and measure progress. Our commitment to teaching and discovery upholds our mission to improve lives through learning. Macmillan Learning includes both academic and institutional divisions. To learn more, please visit http://www.macmillanlearning.com or see us on Facebook, Twitter, LinkedIN or join our Macmillan Community.
About Salesforce:
Salesforce, the global CRM leader, empowers companies to connect with their customers in a whole new way. For more information about Salesforce, visit: http://www.salesforce.com.