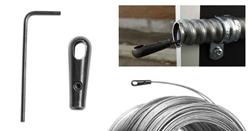 PITTSBURGH, PA (PRWEB) November 09, 2017
PITTSBURGH…InventHelp® introduces an accessory that makes the process of threading wires through conduits or between drywall and vapor barriers a quick and easy task.
"Fish Heads" has a unique, complete spherical design that reduces the chances that the fish tape and wire will get stuck between conduits. Because of that, it eliminates the frustration commonly associated with fish tape snags that often result from the traditional fish tape eyelet. With Fish Heads, a task that was once tedious and repetitive is now fast and simple.
Produced from industrial strength steel, Fish Heads installs directly onto standard 1/8" steel fish tape. The fish tape secures in place within the accessory's hollow core via two set screws, which are strategically applied on opposite sides of the fish tape for a tight compression. Fish Heads features an eyelet to be used to secure wire or twine to be pushed or pulled into a conduit. Additionally, it has a tapered end to ensure a smooth pull back. Suggested retail price: $10.50, plus shipping and handling. Available at https://inventhelpstore.com/collections/hardware-tools/products/fish-head.
InventHelp® is seeking marketers and distributors in the hardware, construction and electrical industries. Fish Heads is available on http://www.inventhelpstore.com, a website of innovative new products by InventHelp's licensing and product marketing partner Intromark Incorporated. For more information, or for ordering, contact us at 217 Ninth Street, Pittsburgh, PA 15222; call (800) 851-6030 or (412) 969-6170; fax (412) 338-0497.