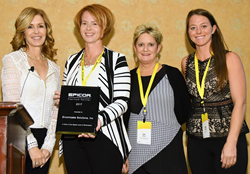 We are honored to be recognized by Epicor as Platinum Partner for another consecutive year
GREENSBORO, N.C. (PRWEB) November 10, 2017
Encompass Solutions, Inc. has won the Platinum Partner recognition in the Annual Partner Program Awards.
Recipients were selected by Epicor Software Corporation based on contributions to customers, revenue generated to Epicor as well as other considerations that showcased the partners' abilities in transforming customers to position them to grow by leveraging Epicor solutions.
"We are honored to be recognized by Epicor as Platinum Partner for another consecutive year as we continue to deliver excellence throughout the implementation, custom solutions, and training of Epicor ERP," said Sonia Haslam, managing partner, Encompass Solutions, Inc. Encompass is also proud to integrate value add products and offer e-business capabilities for specific projects.
Encompass expertise extends from project planning and management through the entire implementation, with a special focus on process improvement. Encompass offers a wide range of services from selection to complete implementation of state-of-the-art ERP systems, to integration and renovation of existing systems as well as analysis and solutions to corporate challenges.
"Congratulations to our Partner Program Award recipient Encompass Solutions, Inc., for enabling business growth through Epicor solutions," said Steve Murphy, chief executive officer, Epicor Software Corporation. "Our partners are an extension of our salesforce and we are fortunate to have such a talented group of IT professionals aligned with us to support customers with business growth, innovation, and enhanced customer experience."
Epicor Partner Program Awards
The Epicor Partner Program Awards are designed to reward Epicor Channel Partner Program members who have demonstrated their ability to serve as an extension of Epicor's own salesforce to help businesses worldwide grow and transform. There are several different categories across different geographies in which partners are awarded, ranging from Global Partner of the Year to specific recognitions such as Rookie of the Year and Marketing Excellence.
About Encompass Solutions, Inc.
Founded in 2001, Encompass Solutions works with a variety of industries throughout manufacturing and distribution as well as with project and service-based organizations. Its customer base is in the United States, and many of those have operations abroad. For additional information, visit us at http://www.encompass-inc.com.
Encompass Solutions 2017, all rights reserved. Epicor and the Epicor logo are trademarks of Epicor Software Corporation, registered in the United States and other countries. Other trademarks referenced are the property of their respective owners. The product and service offerings depicted in this document are produced by Encompass Solutions, Inc. and Epicor Software Corporation.