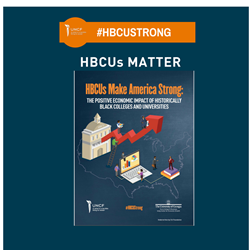 "We have to change the narrative," said Michael L. Lomax, president and CEO of UNCF. "It has to stop being about the deficits of HBCUs and more about their positive contributions to the economy."
WASHINGTON (PRWEB) November 09, 2017
WHAT: UNCF (United Negro College Fund) will host a forum to unveil a new landmark study, HBCUs Make America Strong: The Positive Economic Impact of Historically Black Colleges and Universities, examining the economic impact of the nation's HBCUs. Underwritten by Citi Foundation and prepared by the University of Georgia's Selig Center for Economic Growth – this study examines the spending and employment impacts of the nation's HBCUs total – and for 100 HBCUs individually – on their local and regional economies, as well as the lifetime earnings of the 2014 class of more than 50,000 HBCU graduates.
WHO:
UNCF Leadership: UNCF President and CEO Dr. Michael Lomax; Dr. Brian Bridges, Vice President, Research and Member Engagement; and Cheryl Smith, Senior Vice President, Public Policy and Government Affairs
Invited Members of Congress:

Congresswoman Alma Adams (D-NC), Co-chair, Bipartisan Congressional HBCU Caucus
Congressman Bradley Byrne (R-AL), Co-chair, Bipartisan Congressional HBCU Caucus
Congressman Jim Clyburn (D-SC), House Minority Assistant Leader
Congressman Doug Collins (R-GA), Member, House Committee on the Judiciary
Congressman French Hill (R-AR), Vice Chair, Bipartisan Congressional HBCU Caucus
Senator Tim Kaine (D-VA), Member, Senate Health, Education, Labor and Pensions Committee
Congressman Cedric Richmond (D-LA), Chair, Congressional Black Caucus
Senator Marco Rubio (R-FL), Member, Senate Appropriations Committee
Congressman Bobby Scott (D-VA), Ranking Member, House Education & the Workforce Committee
Senator Tim Scott (R-SC), Member, Senate Health, Education, Labor and Pensions Committee
Congresswoman Terri Sewell (D-AL), Vice Chair, Bipartisan Congressional HBCU Caucus
Congressman Mark Walker (R-NC), Chairman, Republican Study Committee
HBCU Presidents:

Dr. Mary Schmidt Campbell, President, Spelman College, Atlanta, GA
Dr. Wayne A. I. Frederick, President, Howard University, Washington, DC
Dr. Glenda Baskin Glover, President, Tennessee State University, Nashville, TN
Dr. Billy C. Hawkins, President, Talladega College, AL
Dr. Harold L. Martin Sr., Chancellor, North Carolina A&T State University, NC
Dr. David H. Swinton, President Emeritus, Benedict College, Columbia, SC
Dr. C. Reynold Verret, President, Xavier University of Louisiana
WHEN: Tuesday, November 14, 2017 8 a.m.-11:00 a.m. (EST)
Overview of HBCU Economic Impact Study: 9:15 a.m.
HBCU Presidents Panel Discussion: HBCUs As Catalysts for Community and Economic Development: 9:30 a.m.
WHERE: Senate Office Building, Room #902
120 Constitution Avenue, NE
Washington, DC 20002
Media Availability immediately following the panel discussion. Please contact Monique LeNoir at (202) 810-0231 or monique.lenoir@uncf.org for details about media credentials.
For more information, visit uncf.org/HBCUsMakeAmericaStrong on November 14
Follow the discussion on Twitter @uncf #HBCUStrong
About UNCF
UNCF (United Negro College Fund) is the nation's largest and most effective minority education organization. To serve youth, the community and the nation, UNCF supports students' education and development through scholarships and other programs, strengthens its 37-member colleges and universities, and advocates for the importance of minority education and college readiness. UNCF institutions and other historically black colleges and universities are highly effective, awarding nearly 20 percent of African American baccalaureate degrees. UNCF awards more than $100 million in scholarships annually and administers more than 400 programs, including scholarship, internship and fellowship, mentoring, summer enrichment, and curriculum and faculty development programs. Today, UNCF supports more than 60,000 students at more than 1,100 colleges and universities across the country. Its logo features the UNCF torch of leadership in education and its widely recognized motto, "A mind is a terrible thing to waste."® Learn more at UNCF.org, or for continuous updates and news, follow UNCF on Twitter at @UNCF.