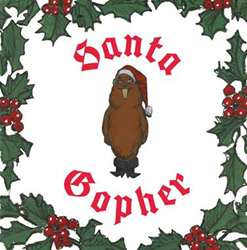 Is the world ready for another Christmas character? "Just Gopher It", say the creators of Santa Gopher.
Los Angeles, CA (PRWEB) November 17, 2017
Christmas carols never die… that's a naughty AND nice fact.
Kept alive on store PA systems, on radio, etc., the Christmas tunes that play incessantly during the holidays drive us nuts, but also provide reassurance that not everything is at the mercy of the winds of social change.
With traditional holiday values on the retreat, Is there room for a new Christmas carol that aims to add an unheard-of character to the ranks of Rudolf, Frosty and Santa?
Is there room for… Santa Gopher?
In the vein of the TV classic, Rudolph the Red Nosed Reindeer, Santa Gopher is a country western song in a desert setting.
Created by actor/impressionist Jim Meskimen, (the voice of Colonel Sanders for KFC commercials) Santa Gopher tells the story of a mysterious gopher that delivers gifts to creatures living in the warrens, burrows and rodent-holes of the Mojave. (Or maybe it's New Mexico; who cares?)
The point is, he's furry and cute–as the accompanying, ultra low-tech music video demonstrates– and, most importantly, you won't be able to get the melody out of your head.
The song was penned by Meskimen and Ian Espinoza, musician and visual artist who normally tackles architectural design.
"We wanted this video to be very "ghetto", we painted characters on cardboard, hot-glued dowels to the back, wiggled them around to make them move, and shot it on an iPhone" said Meskimen, no stranger to video virulence; he voiced all the singing political characters in the legendary "This Land" for Jibjab Media in 2004, garnering over 80 million views.
A lively cowboy ballad, with an edge, (a reference to a famous pop-star's butt, some semi-gross humor about the nature of Santa Gopher's "gifts") and with an instrumental track by well-known LA session man Paul Eckman on upright bass, and guitar by Espinoza, (one half of the cowboy duo Allegretto Espinoza and other major label recording projects) Santa Gopher is corny, but infectious.
Available 11/23/17 on Meskimen's YouTube channel, fans can download Santa Gopher on iTunes when it launches November 23rd.
Is the world ready for another Christmas song? "Just Gopher It, and see", says Santa Gopher.