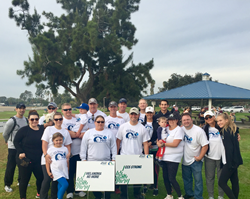 "Anytime you are able to bring awareness of a deadly disease and help make an impact locally, I think that's fantastic." Andrew Stitzer, the Chief Financial Officer for Controlled Contamination Services
San Diego, CA (PRWEB) November 14, 2017
On Sunday November 12th, Controlled Contamination Services sponsored and actively participated in the 'Miles for Melanoma' charity 5K walk in San Diego. CCS employees and their families were eager to give back to the local community as they helped raise funds to support research, education, and advocacy for melanoma.
The event featured a dermatologist giving free skin screenings as well as a sunscreen booth for participants to don their Melanoma Warrior face paint. Melanoma is the deadliest form of skin cancer. It is also the leading cause of cancer death in young women ages 25-30 and the second leading cause of cancer death in women ages 30-35.
The Melanoma Research Foundation is the largest independent organization devoted to melanoma. Committed to the support of medical research in finding effective treatments and eventually a cure for melanoma, the MRF also educates patients, caregivers and physicians about the prevention, diagnosis, and treatment of melanoma.
Andrew Stitzer, the Chief Financial Officer for Controlled Contamination Services, brought his entire family including his dog Dixie to share in the walk. "This is a great cause that our company was very proud to be a part of," said Stitzer. "Anytime you are able to bring awareness of a deadly disease and help make an impact locally, I think that's fantastic. The fact that we, as a company, get to do all that with our friends and family walking side by side that makes the 'Miles for Melanoma' event even more special."
The event was able to exceed its goal and raise nearly $60,000 with CCS being a top 10 sponsor. For more information about Controlled Contamination Services' involvement in 'Miles for Melanoma' please visit cleanroomcleaning.com