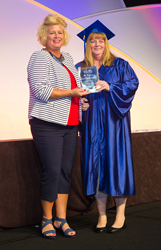 La Plata, MD (PRWEB) November 14, 2017
Dr. Patrick Cieplak, respected dentist in La Plata, MD, is proud to announce the nomination of his Practice Administrator, Sharon Garner, for the American Association of Dental Office Managers (AADOM) Practice Administrator of the Year award. During the same event, Sharon was also honored by earning the position as a Fellow of the AADOM. Sharon, Dr. Cieplak and the rest of the staff at Cieplak Dental Excellence strive to offer the latest dental care patients can depend on all in a comfortable environment. Cieplak Dental Excellence invites new patients to visit for leading dental services, including gum disease treatment, hygiene cleanings and dental implants.
Passionate about her work, Sharon has been the Practice Administrator at Cieplak Dental Excellence since 2011. Her recent nomination for the AADOM'S Practice Administrator of the Year award is a testament to her dental experience and dedication. Sharon is a member, and now Fellow, of the AADOM, which is a community of dental management professionals dedicated to offering leading care. Nominees for the award are required to be active members and have a minimum of three years' experience in dentistry. The organization provides continuing education opportunities, a fellowship program and other resources to help dental professionals succeed.
Along with the rest of the staff at Cieplak Dental Excellence, Sharon and leading dentist in La Plata, MD, Dr. Cieplak, provide experienced care to patients. This practice offers a variety of services, including dental hygiene cleanings, gum disease treatment and dental implants. They also provide patients with several cosmetic treatment options, including orthodontics, porcelain veneers, and crowns and bridges. These and other services are offered in a friendly office environment that helps promote a relaxing patient experience. Patients with a variety of dental needs are encouraged to meet with Dr. Cieplak to discuss treatment options and improve their oral health.
Dr. Cieplak, Sharon and the rest of the team at Cieplak Dental Excellence are committed to helping new and existing patients feel welcome and comfortable during treatment so they can leave with a healthy, confident smile. Individuals who need general cleanings, dental implants or other dental services are encouraged to schedule an appointment with Dr. Cieplak by calling 301-609-9999.
About the Practice
Dr. Patrick Cieplak is a general dentist offering personalized dental care to patients in La Plata, MD. Dr. Cieplak is dedicated to learning the latest dental techniques and has completed hundreds of hours of continuing education courses. Dr. Cieplak is one of only 3,000 dentists to receive the Academy of General Dentistry's Master's Degree and he is a Fellow in the International Congress of Oral Implantology as well as Associate Fellow in the American Academy of Implant Dentistry. Cieplak Dental Excellence strives to offer each patient customized treatment to help them achieve proper oral health. To learn more about Dr. Cieplak, his team or the services they offer, please visit http://www.patcieplakdds.com or call 301-609-9999 to schedule an appointment.