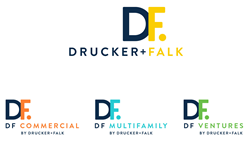 I am pleased that our brand strategy more fully communicates the breadth and depth of the Drucker + Falk organization and will serve as the symbol of a company regarded as an undisputed industry leader for years to come
(PRWEB) November 15, 2017
As one of the top property management companies in the nation, Drucker + Falk, which has been in continuous operation since 1938, is evolving its business model in a manner that reflects the dynamic characteristics of today's real estate and property management industry. Part of this strategic evolution is the introduction of a new brand identity and brand strategy that is reflective of the company's commitment to meet the growing and ever-changing demands of the markets and clients we serve. We are proud to introduce the extension of the Drucker + Falk brand with three distinct business units, DF Multifamily, DF Commercial and DF Ventures as an integral part of the company.
Drucker + Falk's new brand architecture embodies the rich heritage and experience of the Drucker + Falk company while putting focus and emphasis on its expanding core business units. "This strategic initiative is a component of a proactive plan to be the leader in meeting the needs and expectations presented in the modern, technology-driven marketplace. Our industry leading expertise in multifamily management and commercial real estate will be further enhanced by being an early adopter of proven technologies, processes and procedures that when introduced in combination with one another will have profound benefits," said Jim Ledbetter, President of Drucker + Falk.
The new Drucker + Falk corporate identity will be accentuated by a new distinctive corporate mark that features merged "DF" letters with an enhanced period after the mark. This DF mark represents the strength and collaboration that is a hallmark of Drucker + Falk. The enhanced period represents the company's stake in the ground for our continued commitment to set standards for quality and innovative service delivery. Rather than using the ampersand between the names, the new identity features the use of a "+" instead, which reinforces the concept of collaboration while also implying growth.
This rebranding provides the company with a distinct, highly memorable identity that extends to all lines of business. The new branding and go-to-market approach provides a basis for more effectively and efficiently building on a long-established reputation for exceptional client service and performance. "The rebranding is essential and symbolic of the strategic initiatives the company is undertaking as we expand our reach, refine our business focus, expand into new markets and grow our market share in existing markets," according to Guy Buck, Drucker + Falk's Chief Financial Officer.
The new branding was purposeful in its intent to:

Evoke an image that is contemporary, modern and forward thinking
Provide undeniable recognition for the company that extends to current and new business units
Provide clarity to what each DF business unit does while preserving the brand equity that is associated with the Drucker + Falk name
"I am pleased that our brand strategy more fully communicates the breadth and depth of the Drucker + Falk organization and will serve as the symbol of a company regarded as an undisputed industry leader for years to come," adds Ledbetter.
Founded in 1938, Drucker + Falk is a full service real estate and investment firm, managing a diverse portfolio of nearly 30,000 apartments in nine states. Drucker + Falk specializes in multifamily and commercial management services, commercial brokerage, and investment partnerships for real estate growth opportunities. Services offered include new development, construction consultation and market analysis, as well as lease ups and restoration. The company also provides services for asset repositioning and stabilization of challenging properties, mixed use management and due diligence. Drucker + Falk operates under three business units, DF Multifamily, DF Commercial and DF Ventures. To obtain more information visit http://www.druckerandfalk.com.