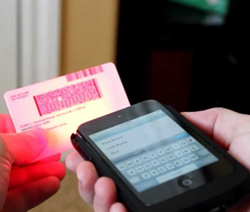 The Apple IOS platform really opened the doors for us to become the award-winning application developer that we are today...
November 15th, 2017 –
San Diego, California. (PRWEB) November 15, 2017 -- Since 2012, Mobile Enrollment has received industry-wide attention, winning the most prestigious award for technological innovation in the casino and hospitality industry. Mobile Enrollment, first in the world to use the Apple IOS as a mobile solution for registering patrons into the casino loyalty club, works both on and off the casino floor. Prior to the invention, players were required to wait in long lines at the players club to enroll in the loyalty program. These long lines were a turn-off to many patrons who prefer to spend their time gambling instead of standing in line.
Casino loyalty programs had been greatly limited prior to the advent of Mobile Enrollment. Most casinos are only able to capture a limited percentage of the total players who visit their properties. With the large number of un-registered players anonymously spending money at the properties, gaming operators were missing the opportunity to build on-going relationships with their guests. This adversely impacts their ability to market to those players and influence them to make future visits.
Playersoft was able to solve this problem for gaming operators and enhance the guest experience by building a mobile app to enable convenient signups. When Mobile Enrollment gets deployed in live gaming environments, it assists casino operators in increasing patron acquisition by up to 30% and grows incremental casino spend by 18% on average. What's more -- patrons are registered for a loyalty club membership in less than ten seconds, receive a player's card immediately and able to enjoy to all the incentives and benefits that come with the membership. Mobile Enrollment is so successful that many other casino software companies have attempted to build similar applications but have fallen short of the benchmark set by Playersoft. Convenient, feature-rich and intuitive, Mobile Enrollment by PlayerSoft is the industry standard for Club Enrollment.
Version 4 -- Playersoft is now raising the bar once again by delivering new features and functions that the casino operators are very excited about.
Here are a few enhancements customers can expect:
Additional Search Parameters: Keep your data clean and feel at ease enrolling new members
Offline mode – Enroll Patrons off property, capturing new patrons at outside events and venues.

Sporting Events
Concerts
Community Events
Assigned card mode – Never leave your customers sight, register patron to pre-assigned cards.
Rewards – Redeem rewards instantly to Patron's Players Club Card for any campaign, including:

New Enrollment
Email Capture
Text or cell phone capture
Any casino wide promotions
Photo – Capture a photo of the patron or of their ID.
PIN – Set and/or Re-set PIN for patrons via mobile. No need to leave the gaming floor
Banned Player Lists –, Playersoft can search for banned players with configurable alerts via

Internal Banned List
Gaming System Banned List, including Self-Exclusions
Third party Databases, including integration with products such as Veridocs, including OFAC and other watch lists
Hot New Features

Hot machines – Identify machines in play with no player's club card registered, offering opportunity for new enrollment.
Age Verification – Swipe or scan patrons ID for immediate verification of Age or Valid ID
Promotional Games to win a prize
"As a former gaming operator, I always knew that the Mobile Enrollment App was needed, but there weren't stable mobile platforms to deploy the technology until Apple came out with the iPod and iPhone. These devices really opened up the opportunity to create the highly successful applications we offer to our clients." Said, Tony de Leon – Playersoft's CEO
To learn more about Mobile Enrollment, click here:
About Playersoft
Playersoft Technologies focuses on creating systems to streamline all aspects of the fast-moving casino industry. Playersoft Technologies was established with a mission to help casino operators improve the players gaming experience, increase player retention and profitability.