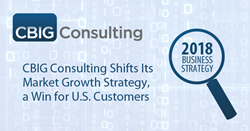 CHICAGO (PRWEB) November 15, 2017
Established business data analytics expert CBIG Consulting confirmed its growth strategy for 2018 and beyond, announcing increased focus on the U.S. market in order to accommodate expanding client demand.
According to Co-Founder and Principal Don Arendarczyk, CBIG's own market forecasting data, backed up by IDC's March, 2017 Big Data and Business Analytics Revenues Forecast analysis indicates that geographically, the United States will be the largest market for big data and business analytics solutions with spending expected to reach $78.8 billion in 2017. "Solid market growth indicators like these have guided CBIG's expansion initiatives since 2002. We are consistently upping our game by better serving clients, developing staff and increasing revenues year after year."
Arendarczyk acknowledged that in order to implement its plan, CBIG has arranged for its two Asia/Pan-Pacific offices to join Deloitte's Analytics and Information Management teams in Sydney, Melbourne and Singapore. "By rolling our APAC operations into Deloitte Australia and Singapore, we are better able to focus on, and invest in, the largest growing analytics market in the world here in the U.S.," Arendarczyk added. CBIG intends to significantly increase its footprint in the West, Central, and East regions of the U.S. while continuing to invest heavily in strategic analytic solutions that support the many vertical markets it serves.
CBIG Consulting has been recognized by many industry analysts in recent years for its leading platform of professional services focused on business analytics that leverage emerging technologies. Forbes named the company one of "America's Best Management Consulting Firms" in 2017.
About CBIG Consulting:
CBIG Consulting is a leader in Business Intelligence, Big Data Analytics, Data Warehousing, and Cloud-based Analytics platforms. Named a top BI and Big Data consulting firm by independent research organizations and publications, CBIG's management consultants, business analysts, data scientists, architects and engineers are seasoned professionals dedicated to the analytics space. CBIG works with global enterprises, mid-size businesses, and non-profit organizations in solving mission-critical reporting and analytical needs. CBIG is headquartered in the Chicago area and has additional offices in San Francisco, Boston, Denver, Austin, Raleigh, Irvine and Seattle. For more information, please visit http://www.cbigconsulting.com