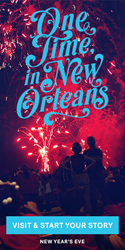 "Visiting New Orleans during the holidays is magical," said Mark Romig, President and CEO of New Orleans Tourism Marketing Corporation. "It's a place to celebrate your own traditions while learning historic traditions celebrated nowhere else but here."
NEW ORLEANS (PRWEB) November 16, 2017
Over a month of celebration begins today with Christmas New Orleans Style, sponsored by New Orleans Tourism Marketing Corporation, (NOTMC) and programmed by French Quarter Festivals, Inc. (FQFI).
"I'm thrilled to officially launch this year's Christmas New Orleans Style celebration," said Mayor Mitch Landrieu, Mayor of New Orleans. "This holiday season is especially meaningful for the City of New Orleans as we celebrate our 300th anniversary. I hope everyone enjoys this special time of year."
Visitors will enjoy holiday music, seasonal dinners, and festive activities in whatever New Orleans neighborhood they venture into this year. Attractions include among many others, 'NOLA ChristmasFest at the Convention Center, holiday shows at the National World War II Museum, caroling in the French Quarter and much more. More than 80 authentic seasonal events that include attractions, restaurants, and shops will offer activities over the Christmas New Orleans Style holiday season.
Free holiday concerts can be found at St. Louis Cathedral and St. Augustine Church as well as in many hotel lobbies. Traditional Reveillon dinners are sprinkled throughout the city's restaurants and then there is the unique and unusual antique and eclectic treasure shopping found on Magazine, Royal, Freret, and Oak Streets among others. The joy is spread from November 16 through Twelfth Night, Saturday, January 6th, 2018.
"For an authentic holiday experience, filled with wonderful stories that you can share with friends and family alike, there is no place like New Orleans," said Mark Romig, President and CEO of NOTMC. "You'll leave with new holiday traditions, unusual gifts, and memories to last a lifetime."
Seasonal celebration highlights include:

Papa Noel hotel rates discounted up to 25% at one of 58 area hotels and bed and breakfast establishments
50 participating Reveillon restaurants with dinners starting at only $24
Festive holiday cocktails in bars and lounges throughout the city
More than 80 holiday events, many of which are free
Free concerts at St. Louis Cathedral in the French Quarter and St. Augustine Church in the Treme neighborhood
Great Christmas shopping with many discounts offered around the city
Entertaining historic characters strolling through the French Quarter from 'Louisiana History Alive!'
"As New Orleans prepares to celebrate its 300th anniversary, and FQFI its 35th,
Christmas New Orleans Style will celebrate our cultural heritage and showcase the best of NOLA's emerging talent," said FQFI President and CEO Emily Madero. Our concert lineup at historic St. Louis Cathedral and St. Augustine Catholic Church features the city's most beloved, talented musicians; at restaurants all over the city, diners can take a bite of history with a traditional Reveillon dinner or enjoy our haute cuisine by selecting a contemporary menu. From traditional to modern, we have so much to offer!"
The 2017 "Follow Your Joy" ad campaign will feature New Orleans over the following dates in both drive and fly markets:
Digital 11/16 – 12/22

The 11 Primary Markets include: Atlanta, GA; Boston, MA; Chicago, IL; Dallas-Ft
Worth, TX; Los Angeles, CA; Memphis, TN; Minneapolis-St Paul, MN; New York, NY;
Philadelphia PA; San Francisco, CA; Washington DC

There are 22 secondary markets including: Austin, TX; Baton Rouge, LA; Birmingham, AL; Charlotte, NC; Denver, CO; Detroit, MI; Houston, TX; Indianapolis, IN; Jackson, MS; Kansas City, MO; Little Rock, AK; Miami, FL; Mobile-Pensacola, FL; Nashville, TN; Philadelphia, PA; Portland, OR; Sacramento, CA; San Diego, CA; Seattle, WA; St Louis, MO; Tampa-St. Pete, FL; Tulsa, OK
Digital distribution partners include Afar, Upworthy, Refinery29, Bon Appetit, CBS,
Garden & Gun, and Billboard Magazine.
Social 11/9 – 11/14
Social messaging will include sponsored social ads showcasing seasonal events and happenings, holiday caroling, bonfires on the levee, light shows, and decadent desserts. Specific coverage of events will include:

New Year's Eve – Nov. 15 – 17
Celebration in the Oaks – Nov. 17 – 21
Holiday Home Tours – Nov. 27 – 29
Live coverage of CNOS events will include:

Celebration in the Oaks – Dec. 1
Algiers Bonfire on the Levee – Dec. 2
Krewe of Jingle – Dec. 2
Luna Fete – Dec. 6
Caroling in Jackson Square – Dec. 17
NOLA Christmasfest – Dec. 21
Christmas Eve bonfires – Dec. 24
New Year's Eve Tricentennial Toast – Dec. 31
A holiday website, FollowYourJoy.com, showcases 'Christmas New Orleans Style' events, Christmas carolers, bonfires on the levee, light shows and delicious desserts. Additionally, visitors and locals are invited to share their favorite New Orleans holiday stories on Instagram and Twitter by tagging their photos with #OneTimeinNewOrleans and #FollowYourJoy. The holiday campaign is also supported across New Orleans' official social media channels including Facebook, Instagram, Twitter, Pinterest, and the GoNola.com blog.
To learn more about Christmas New Orleans Style, and to see the 2017 CNOS guidebook listing all scheduled events, visit FollowYourJoy.com or FQFI.org. Hotel reservations, including special citywide rates, can also be booked via direct links to hotels on FollowYourJoy.com.
For a schedule of events or more information on Christmas New Orleans Style, call (504) 522-5730 or visit http://www.FollowYourJoy.com.
###
About New Orleans Tourism Marketing Corporation (NOTMC)
The New Orleans Tourism Marketing Corporation promotes the city as a leisure tourism destination throughout the year. Annually, NOTMC's marketing campaigns include strategic print, broadcast, internet advertising, and public relations. Web sites: NewOrleans.com, NewOrleansOnline.com, GoNOLA.com. Social Media: Facebook/NewOrleans, Instagram.com/visitneworleans,
Twitter.com/@visitneworleans, and Pinterest.com/visitneworleans.
About French Quarter Festivals, Inc. (FQFI)
French Quarter Festivals, Inc., the 501(c) 3 nonprofit organization, which produces the French Quarter Festival presented by Chevron, Satchmo SummerFest presented by Chevron, and Christmas New Orleans Style. For more information about French Quarter Festivals, Inc., call 504-522-5730 or visit online at http://www.fqfi.org.