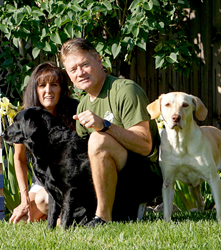 Pet Wants is different because we care about what goes into our food and, when it's delivered to your house, it's fresh. We're not bringing you food that's been sitting in a distribution center or on store shelves for months packed with preservatives. - Kathy Jones
DENVER (PRWEB) November 16, 2017
Kathy and Randy Jones are looking forward to expanding their love of animals into their new small business, Pet Wants Denver SouthWest.
Pet Wants Denver SouthWest – which offers multiple blends of Pet Wants dog food and cat food – also sells healing salve, calming balm, anti-itch spray, paw wax and more. Pet Wants' carefully developed proprietary pet food is slow-cooked in small batches with fresh, high-quality ingredients once per month, so every kibble is guaranteed to be fresh and packed with nutrition. Pet Wants Denver SouthWest offers free, personal delivery to all of Southwest Denver including Littleton, Lakewood, Bear Creek, Morrison, Willowbrook/Willow Springs, Ken Caryl, Bow Mar, Columbine and the surrounding areas.
In addition to being made fresh monthly, Pet Wants only sources the best salmon, chicken, lamb, brown rice and other ingredients available. There's no sugar added, no fillers and no animal by-products and Pet Wants never uses corn, wheat, soy or dyes, which makes the food great for animals with allergies.
"Pet Wants is different because we care about what goes into our food and, when it's delivered to your house, it's fresh. We're not bringing you food that's been sitting in a distribution center or on store shelves for months packed with preservatives. The quality ingredients and commitment to freshness is what makes Pet Wants something you should try for your pets," Kathy said.
The Jones' live in Southwest Littleton, which is where Kathy grew up. Randy has worked for Grainger Industrial Supply since 1986 and Kathy has had several of her own small businesses. Kathy and Randy have always loved dogs. In fact, when they met on a blind date in 1981, it was Kathy's black lab mix, Chrona, who brought them together. The couple has two grown sons – Dakota and Dallas – and have loved eight family dogs, including the two labs they have now, Abbye and a new mill rescue named Nova. They also have two cats, Kali and Darby, and a frog named Freddie. The Jones' journey to open their own Pet Wants started with their lab, Jane.
"Jane survived cancer in 2011, and wanting to give our dogs better nutrition than we could find in pre-packaged foods, we cooked for them ourselves. As our dogs thrived, I learned more and more about the importance of fresh, high quality food for our pets. In February, Jane got sick and we had to let her go. Five days later I came across Pet Wants on Facebook and, as I started doing my research, it was like Jane was telling me this was the right path," Kathy said.
"Pet Wants gives us the opportunity to help pets get more nutritious food and live healthier lives without doing EVERYTHING ourselves. I trust Pet Wants and I'm looking forward to bringing the food and other products to this community," Kathy said. "We recently adopted Nova from the National Mill Dog Rescue and we are excited to see how Pet Wants' quality nutrition and freshness will help in her rehab and overall health."
Pet Wants originally launched in Cincinnati in 2010. Owned by Michele Hobbs, the business was built to provide proprietary crafted, fresh, slow-cooked, high-quality pet food delivered to customers through a retail store and a convenient home-delivery service. Hobbs, now the company founder, turned the business into a franchise in 2015 with the help of Franchise Funding Group, an investment and franchise-development company designed to help entrepreneurs scale their companies nationally as franchise systems.
To learn more about Pet Wants or to get a free pet food sample, call 303-396-PET4(7384), email KJones(at)PetWants(dot)com or visit https://petwantsdenversouthwest.com.
About Pet Wants: Pet Wants was started by Michele Hobbs out of love for her pets and frustration. Veterinarians were unable to help relieve her dog's painful skin allergies. After doing much research, Michele discovered the national dog food brand she trusted was not fresh and lacked sufficient nutrition and, when pet food sits in warehouses and store shelves for months and months, it loses even more nutritional value. She was committed to developing a better solution for all dogs and cats. Pet Wants food is exclusively crafted – fresh, healthy, and slow-cooked with no sugar added, no fillers, and no animal by-products. Pet Wants sources only the best salmon, chicken, lamb, brown rice, and other ingredients. Fresh ingredients make for better food, which translates into better health for pets. And, since Pet Wants never use corn, wheat, soy or dyes, the common pet health problems associated with these ingredients are no longer worries. Pet Wants fresh food is conveniently delivered to the customer within weeks of production, not months. Roughly half of Pet Wants products are sold through their store and half through their convenient, home-delivery program. You can learn more at http://www.PetWants.com.