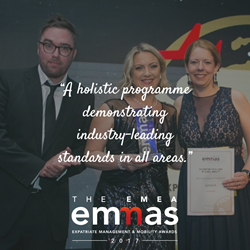 This award shines a light on the importance of investing in the accompanying family of any international assignment.
LONDON (PRWEB) November 20, 2017
Learnlight is delighted to have won the Best Family Support Program at the recent FEM Expatriate Management Mobility Awards (EMMAs). The annual awards ceremony, held in London, celebrates and recognizes best-in-class companies and individuals working in the Global Mobility sector.
Learnlight's family support programs have proven to have a huge impact on the success of an international assignment. The deployment of carefully tailored learning and support packages, that combine highly focused instructor-led cultural training and coaching, with online country content and support, means every member of the family is supported throughout their entire assignment.
Declan Mulkeen, Global Head of Marketing, commented: "We are delighted to have won this prestigious award. We would very much like to share this award with the many clients who invest in family support programs and recognize the importance of preparing families for an international assignment as much as the assignee."