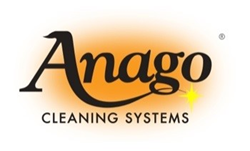 "Technology has played an integral part in my career as a successful entrepreneur," says Dave. "That's what attracted me to invest in Anago. Their digital footprint outperforms every other franchise in the space."
FORT LAUDERDALE, Fla. (PRWEB) November 17, 2017
Anago Cleaning Systems (Anago), an industry-leading commercial cleaning franchise with over 35 Master Franchise locations and over 1,400 Unit Franchises throughout the U.S. and internationally, is pleased to welcome its newest Utah Master Franchise Owner, Dave Bonnemort.
Dave is a former partner at MobilityRE, an all-in-one mobile real estate technology solution for mortgage and real estate professionals throughout the United States and Canada. Bonnemort also serves as the Chairman of the University of Utah Honors College Alumni Board where he helps build scholarship, internship, and mentorship opportunities for students and alumni of the school.
"Dave's insight into tech and mobile app development will play a big role in furthering Anago's digital activation plan," says Adam Povlitz, President of Anago Cleaning Systems.
In addition to Dave's previous position at MobilityRE, he founded a successful blog titled Investment Banking Interview Prep which focuses on helping students land jobs as investment banking analysts. Dave also worked as the Enterprise Account Development Manager for Adobe.
"Technology has played an integral part in my career as a successful entrepreneur," says Dave. "That's what attracted me to invest in Anago. Their digital footprint outperforms every other franchise in the space."
To explore Master franchise opportunities with Anago, contact Judy Walker, Vice President of Marketing, at 800-213-5857 or judy@anagocleaning.com or visit http://www.AnagoMasters.com.
About Anago Cleaning Systems
Anago Cleaning Systems is a commercial cleaning franchise system supporting over 35 Master Franchises and over 1,400 Unit Franchisees in the U.S. and internationally. After years of refining procedures and creating duplicable systems created in his large commercial cleaning service, David Povlitz founded Anago in 1989 to help other entrepreneurs open their cleaning businesses. Today, its program sets the standard worldwide in commercial cleaning. Anago was ranked the 10th fastest-growing franchise in 2013 and in the top 100 on the Franchise 500 by Entrepreneur Magazine. Additionally, Anago was ranked the #1 Janitorial Franchise by FranchiseRankings.com in 2016 and ranked by Franchise Business Review as one of the best franchises in Franchisee satisfaction for 10 consecutive years. Inc. Magazine has also listed Anago as one of the top privately-held companies in the U.S. For further information, visit its website at http://www.AnagoMasters.com.