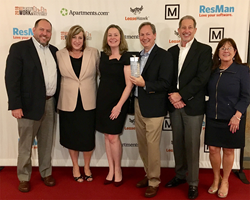 This distinction is a reflection of our people's commitment to our core values that encompass teamwork, transparency and unwavering professionalism
NEWPORT NEWS, Va. (PRWEB) November 17, 2017
Drucker + Falk, one of the nation's leading property management companies in the industry, has been named as a top 25 best places to work for the second year in a row. The 2018 results were released at the National Multifamily Leadership Summit recently held on November 16, 2017 in Scottsdale, Arizona with Drucker + Falk ranking 12th out of all property management companies in the nation. To qualify and be recognized for the prestigious award, companies must demonstrate how they have fostered an exceptional work environment.
"This distinction is a reflection of our people's commitment to our core values that encompass teamwork, transparency and unwavering professionalism," exclaims David Falk Jr., Managing Partner. "As we approach 80 years of service to our clients, I could not be any prouder of what the Drucker + Falk brand stands for today," adds Falk.
The rigorous qualification process includes a series of surveys filled out by company employees and a thorough evaluation by top industry experts. Companies are not only assessed based on the work environment but also based on the quality of the company's policies and procedures as well as having a culture that encourages growth and profitability. "As Drucker + Falk continues to expand our footprint across the east coast, it gives me great pride to see our teams being recognized for their leadership that I see demonstrated on a daily basis," states Jim Ledbetter, President & COO of Drucker + Falk.
The Multifamily Industry contributes more than $77 billion to the economy every day and supports more than 12.3 million jobs. This industry is made up over 200,000 companies in America making this a particularly distinctive honor.
Founded in 1938, Drucker + Falk is a full service real estate and investment firm, managing a diverse portfolio of nearly 30,000 apartments in nine states and operates three divisions, DF Multifamily, DF Commercial and DF Ventures. Collectively, the company specializes in multifamily management of all asset types including new development and construction consultation as well as lease ups, restoration and upscale multifamily conversions and commercial brokerage services. The company also provides services for asset repositioning and stabilization of challenging properties, mixed use management and due diligence. To obtain more information visit http://www.druckerandfalk.com or contact us at info(at)druckerandfalk(dot)com.