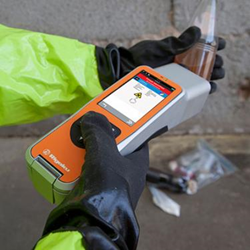 PARIS (PRWEB) November 21, 2017
Rigaku Corporation is pleased to announce that instrumentation from Rigaku Analytical Devices, a leading provider of innovative handheld Raman spectrometers, is being featured at the 20th Milipol Paris event.Milipol 2017 is a leading international event for Homeland Security and is being held November 21-24, 2017 at the Paris-Nord Villepinte Exhibition Centre in Paris, France.
Milipol Paris offers visitors a host of opportunities to meet and talk with French and international experts in safety and security domains. The event is a unique opportunity to discover the latest technological innovations in Homeland security.
Fondis Electronic – a provider of distribution, technical assistance and maintenance of scientific equipment for safety and security, environmental analysis and control, real estate diagnosis, metallurgy, industry, microscopy, research, laboratory and materials applications – will be demonstrating the Rigaku Progeny ResQ1064 nm handheld Raman spectrometer with representatives from Rigaku at stand 6 S 074.
The Progeny™ ResQ™ 1064 nm handheld Raman analyzer provides emergency responders, law enforcement agencies, and the military with the industry's most comprehensive tool for chemical identification, CBRNe detection, and narcotics classification in a fast and simple handheld form. The Progeny ResQ analyzer can measure colored solids, liquids, and powders, as well as substances through containers, overcoming issues of fluorescence interference that affects traditional handheld Raman.
To find out more about the capabilities of the MIL-STD 810G certified Progeny ResQ analyzer with 24/7 reachback support, please visit the Rigaku Analytical Devices team at the aforementioned events or visit http://www.Rigaku.com/ResQ
About Rigaku Analytical Devices (RAD)
RAD was formed as the global handheld and portable spectroscopic analyzer business unit of Rigaku Corporation in 2011. RAD's portfolio of handheld and portable spectroscopic analyzers are used for a variety of applications, empowering our customers to achieve rapid lab-quality results any time, any place.
For further information, contact:
Jen Lynch
Marketing Director
Rigaku Analytical Devices
Wilmington, MA USA
Tel: +1 781-328-1024
Jen.Lynch(at)rigaku(dot)com