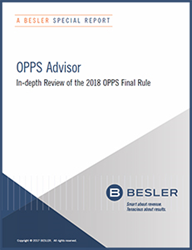 Princeton, NJ (PRWEB) November 22, 2017
BESLER is pleased to announce that it has released a special report with an in-depth review of the 2018 Hospital Outpatient Prospective Payment System (OPPS) Final Rule recently posted by the Centers for Medicare & Medicaid Services (CMS).
"Hospitals are facing decreased Medicare reimbursements in 2018 for a variety of reasons," said Jonathan Besler, BESLER's President and Chief Executive Officer. "We are happy to provide our expert analysis of the 2018 OPPS rule to help hospitals navigate changes that can affect their Medicare revenue."
The report can be downloaded at http://www.besler.com/2018opps/
About BESLER
BESLER combines best-in-class healthcare finance expertise with proprietary technology to help hospitals recover more revenue. Our reimbursement and recovery solutions have delivered more than $2 billion of additional revenue to hundreds of hospitals across the United States. We serve as advocates for hospitals, so that they, in turn, can better advance the health and well-being of their patients.