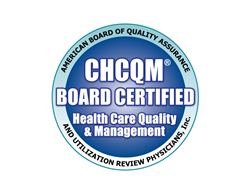 HCQM Certification is a definitive benchmark of achievement that lets everyone know you operate at a higher level of proficiency.
NEW PORT RICHEY, Fla. (PRWEB) November 22, 2017
The importance of health care quality and patient safety continues to be at the forefront of providing medical care. It is essential that health care providers and administrators demonstrate their expertise and commitment to health care quality. "A hospital or health system adopting HCQM Certification/education for their medical staff allows them to say to outside interests that they have the highest possible standards for their medical team by certifying them through an independent, non-profit organization (ABQAURP) that is dedicated to ensuring health care quality and management," according to ABQAURP Chairman of the Board, Dr. Arthur Broder.
In addition to concerns about patient safety, inappropriate services, and unnecessary readmissions, the rising costs of health care and its impact on American business all solidify the need for Health Care Quality and Management (HCQM) Certification.
HCQM-certified health care leaders effectively address the need for accountability by demonstrating an understanding of quality techniques and tools to reduce medical errors, ensure patient safety, eliminate waste and unnecessary services, and avoid potentially harmful delays in care.
How do health care professionals validate expertise in today's highly competitive health care environment?
Validate your expertise with a certification that demonstrates knowledge and commitment to safety, health care quality, and effective care. HCQM Certification is a definitive benchmark of achievement signifying a higher level of proficiency.
Through a relationship with the National Board of Medical Examiners® (NBME®), ABQAURP continues to deliver the highest quality certification process. Together, we collaborate on the planning, development, analysis, and scoring of the exam, bringing examinees a certification based on definable standards upheld by knowledgeable experts.
Health care leaders can enhance their HCQM credential with additional sub-specialty certifications in the following categories:

Physician Advisor (Physicians Only)
Transitions of Care
Managed Care
Patient Safety / Risk Management
Case Management
Workers' Compensation
The HCQM Examination and Physician Advisor Sub-Specialty are endorsed by the American College of Physician Advisors. HCQM Certification and the physician advisor sub-specialty align with ACPA's mission to promote and expand the prominent role of the Physician Advisor in today's rapidly changing health care environment through education, certification, mentorship, and collaboration; as well as ABQAURP's mission to improve the overall quality of health care.
Prepare now for the 2018 HCQM Examination! Now accepting applications for the HCQM Test Window that will be open from August 15 through October 15, 2018. Both the HCQM Exam and the Core Body of Knowledge online preparation course are being updated for this exam cycle.
Early registration discounts apply; save $75 on the HCQM Exam Fee when registering by January 29, 2018.
Visit the ABQAURP website at: http://www.abqaurp.org/Certification or call (800) 998-6030 to learn how HCQM Certification can validate your experience and set you apart from the rest!
"National Board of Medical Examiners®" and "NBME®" are registered trademarks of the National Board of Medical Examiners.