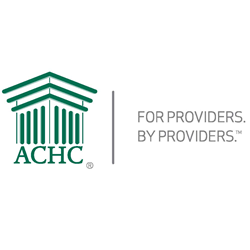 Cary, NC (PRWEB) November 28, 2017
Accreditation Commission for Health Care (ACHC) and RXinsider announce the release of a 12-part video series that addresses questions regarding pharmacy accreditation and compliance solutions. The effort is the most recent addition to RXinsider's Thought Leader Series.
"The collaboration between ACHC and RXinsider offers pharmacies in need of accreditation, state boards of pharmacy, payors, PBMs, and pharmaceutical manufacturers valuable information on compliance solutions," said Tim Safley, ACHC Director, Pharmacy, DMEPOS, and Sleep. "Recognizing the effectiveness of video as an educational platform, these short clips provide pharmacies and industry stakeholders detail on the value of accreditation in a dynamic and more personal platform."
"RXinsider is excited to partner with ACHC through the RXinsider Thought Leader Video Series. The videos within our series provide compelling information to pharmacies and health care stakeholders across a broad spectrum of relevant industry issues. Video is the new wave of audience engagement, and ACHC is at the forefront of educating its audience on the critical value of accreditation," said Chris Kolkhorst, Vice President, RXinsider.
Since the introduction of its Pharmacy Accreditation program in 1996 (and as the first accrediting body to offer accreditation in Specialty Pharmacy), ACHC has grown to become a leading national accreditation organization with more than 6,000 pharmacies accredited in the U.S. With a broad array of pharmacy compliance solutions, including accreditation programs for community retail, specialty, infusion, and long-term care, as well as non-sterile and sterile compounding services, ACHC is positioned to be the solution of choice for all clinical settings as well as for payors, manufacturers, and regulatory bodies. ACHC has taken additional steps to meet market needs by offering specialized Distinctions in Oncology and Infectious Disease Specific to HIV as well as the industry's first Distinction in Hazardous Drug Handling (HDH) compliant with USP 800. With a comprehensive suite of educational resources, ACHC is also committed to helping its customers maintain continuous compliance.
ACHC is a nonprofit accreditation organization that has stood as a symbol of quality and excellence since 1986. The organization has CMS deeming authority for Home Health, Hospice, and DMEPOS and a Quality Management System that is certified to ISO 9001:2015. ACHC is the provider's choice for accreditation because of its personal Account Advisors, relevant and realistic standards, competitive pricing, and a friendly, consultative approach to accreditation. Accreditation by ACHC reflects an organization's dedication and commitment to meeting standards that facilitate a higher level of performance and patient care.
For more information on ACHC accreditation programs, or to download ACHC Accreditation Standards, please visit http://www.achc.org or contact customerservice(at)achc(dot)org or (855) 937-2242.
About RXinsider
RXinsider is an innovative publishing and technology company offering fresh and relevant multimedia publications, SaaS technology platforms, research tools, and marketing resources to the pharmacy and healthcare markets. Founded in 1999 by Gregory Cianfarani RPh, RXinsider has grown into one of the most respected publishing and technology companies in health care. RXinsider is an Incutor company. Visit rxinsider.com to learn more.