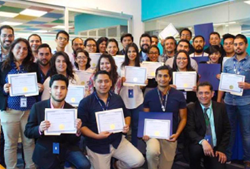 Qualfon provides employees several career-path opportunities and strives to ensure that employees either wish to advance throughout levels of opportunity within Qualfon
(PRWEB) November 25, 2017
Qualfon, a mission-driven business process outsourcing (BPO) company and global provider of contact center services, reported that more than 50 new Six Sigma-certified persons have successfully graduated from its Supervisor Readiness program at its Mexico City facility, preparing them to take new positions in the company.
Qualfon provides employees several career-path opportunities and strives to ensure that employees either wish to advance throughout levels of opportunity within Qualfon, or are sufficiently trained to advance elsewhere in order to reach their total vocation and improve the lives of themselves and their families.
These graduates in Mexico City have taken supervisor training classes in preparation for future promotion and stand ready to fill supervisor positions when an opening arises. Supervisor Readiness program graduates represent about 10% of Qualfon's company-wide agent population and are actively trained in supervisor certification programs, ensuring that future supervisors are not starting their new responsibilities without experience, while also preparing Qualfon for growth.