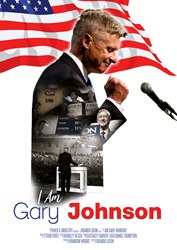 We wanted to show the world some of the most controversial and emotional moments from the campaign. Good, bad, or regretted, at the end of the day JohnsonWeld made history.
LOS ANGELES (PRWEB) November 27, 2017
Production began this week on the documentary "I Am Gary Johnson." The feature-length film is a comprehensive look at the 2016 Presidential Campaign of two-term Governors Gary Johnson and Bill Weld, the Libertarian movement, and the political ambiguity felt by millions across the United States.
Director Brando Eaton (Dexter, MTV's Awkward) presents compelling, never-before-seen footage from the campaign trail in conjunction with candid post-election interviews with key political insiders, JohnsonWeld staff, and the former candidates. "We wanted to show the world a sampling of the most controversial and emotional moments from the campaign," stated Eaton. "Good, bad, or regretted, at the end of the day JohnsonWeld made history."
"I Am Gary Johnson," produced by Los Angeles based production company Power & Industry®, has gained notable traction in recent weeks as two different clips from the film surfaced on multiple conservative and liberal political sites. This has provoked speculation within the Libertarian community of "something big" in the plans for next year's LP national convention in New Orleans. Daniel Thompson, Executive Producer of the project stated: "I think Governor Johnson and Governor Weld's perspective surrounding the campaign, post-election, will surprise most people who watched from the outset and cause a level of consternation among the immediate delegation."
Gary Johnson is a successful two-term Governor of New Mexico and a man who angered many in both mainstream political parties, as he sought to unite fiscal conservatism with social tolerance. An early adopter of marijuana legalization, gay rights, and immigration reform, many of Johnson's unique and forward-thinking positions became adopted principles on both sides of the isle. Bill Weld was possibly the most popular Governor Massachusetts has ever had, winning landslide victories as a Republican in a widely Democratic state and one who championed social equality long before running for Vice President. As Libertarians, they sought to challenge the duopoly and provide a reasonable and experienced alternative to Hillary Clinton and Donald Trump.
"I Am Gary Johnson serves a thought-provoking reality check for the Libertarian Party, who received a record tally, but struggled to reach their goal of getting 5% of the electorate," said Producer Brandon Wright.
In preparation for a US theatrical release, the production company is offering audiences an opportunity to participate via IndieGoGo. The crowdfunding campaign began today and features remarkable incentives including autographed campaign memorabilia, a private screening at your home with the Director, early access to the film with additional content or VIP access to a red-carpet premiere hosted in Los Angeles, Boston or Rhode Island.
Stay Connected on Facebook.