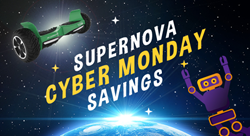 DENVER (PRWEB) November 27, 2017
GOTRAX™, the Denver-based brand of premium hoverboards and electric rideables, today celebrates Cyber Monday with the lowest online hoverboard prices exclusively through its website on its line of HOVERFLY hoverboards, and makes the anticipated GLIDER electric folding scooter available through its website for $249.99 ($349.99).
Highlights of the Cyber Monday sale include the UL-certified HOVERFLY ECO for only $147 ($199.99 MSRP) and an impressive $70 off the off-road ready HOVERFLY XL, making the high-end all-terrain hoverboard available for only $229.99 ($299.99 MSRP). A Cyber Monday bundle is also available, taking $20 off purchase of a HOVERFLY ECO, GOTRAX HELMET and 1-Year Extended Warranty at checkout with code CYBERMONDAY20.
The special holiday sale pricing on hoverboards and other GOTRAX hoverboards and accessories is available now exclusively at GOTRAX.com and applied automatically at checkout along with free shipping.
CYBER MONDAY HOVERBOARD SALE PRICING
HOVERFLY ECO | $147 ($199.99 MSRP)
HOVERFLY | $179.99 ($229.99 MSRP)
HOVERFLY PLUS | $189.99 ($249.99 MSRP)
HOVERFLY XL | $229.99 ($299.99 MSRP)
HOVERFLY KART | $59.99 ($69.99 MSRP)
GOTRAX HELMET | $24.99 ($39.99 MSRP)
GLIDER ELECTRIC SCOOTER | $249.99 ($349.99 MSRP)
The long-awaited GLIDER electric folding scooter also becomes officially available today, expanding the GOTRAX line beyond its signature hoverboards.
Engineered to be a fun and versatile mode of transportation for kids and adults, the GLIDER features an ultra-fast fold-and-release system, making it a cinch to fold for storage, commuting or traveling.
The GLIDER is able to reach a top speed of 17 miles-per-hour for up to 9 miles thanks to a powerful 250-watt motor, features a sleek lunar-bright LED headlight for safety when the sun goes down and a backlit display allowing users to track stats like speed and battery life.
The brand also published "Hoverboards: The Ultimate Holiday Buyer's Guide," a multimedia experience designed to help parents make informed decisions when shopping for hoverboards, regardless of brand.
LOOK: EXPLORE 'HOVERBOARDS: THE ULTIMATE HOLIDAY BUYER'S GUIDE'
The guide covers topics like UL certification, performance, what features are important, value, customer service and more with a variety of colorful infographics, animated videos, an interactive Hoverboard Safety Quiz and, of course, detailed walkthroughs of what to look for when purchasing a hoverboard and why.
GOTRAX also recently added an optional one-year extended warranty to give buyers even more confidence in their holiday purchases. All GOTRAX products are now available at the lowest prices of the year for a limited time at GOTRAX.com.
Want to join the GOTRAX™ affiliate program? Apply here.
Learn more and shop Cyber Monday hoverboard prices at GOTRAX.com.
GET SOCIAL: @RideGOTRAX
ABOUT GOTRAX
Welcome to the GOTRAX™ GALAXY, where every day's the weekend and robots are our friends. We're on a mission to create electric rideables that boost imaginations and the possibilities for personal transportation. As of 2017, GOTRAX is dispatching electric rideables across the planet, starting with the HOVERFLY two-wheel self-balancing electric scooter aka hoverboard. Our company values start right here in our Denver-based marketing headquarters, where our team works their space boots off to raise the standards of the electric rideables industry.
GOLABS, INC™ DBA GOTRAX™
###
MEDIA INQUIRES
Don Stefanovich | press(at)gotrax(dot)com