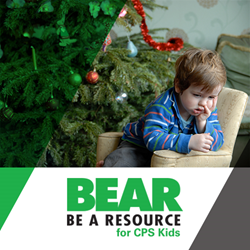 We can have a positive impact during this special time of the year and provide smiles toward our community's future. It's a perfect fit for our new Community Program!
Humble, TX (PRWEB) November 28, 2017
Bates Insurance Agency has unveiled a new charity campaign in their ongoing community involvement program serving the families and businesses of the greater Houston area. The new initiative resolves to make children's holiday wishes come true by partnering with Child Protective Services (CPS) in Harris County. CPS provides help and hope for approximately 16,000 abused and neglected children every year with their BE A RESOURCE (BEAR) program. When a child is put into their care, it's all too frequently an emergency situation. Kids often arrive in just a diaper or perhaps their PJs, without shoes, usually with no other – or very few – clothes or possessions. Without the BEAR program and generous donors, there simply wouldn't be enough money to cover each child's expenses.
It's easy to imagine that the holidays can be especially harsh for these kids, which is why the BEARing Gifts holiday program provides presents to kids of all ages who are under the care of CPS. Last year, BEAR was able to furnish gifts for more than 11,000 who otherwise would have had no holiday cheer at all. Readers may now join the Bates charity drive and donate at https://www.crowdrise.com/lets-make-a-childs-holiday-wish-come-true.
"We can have a positive impact during this special time of the year and provide smiles toward our community's future," said Tim Bates, owner of Bates Insurance Agency. "It's a perfect fit for our new Community Program!"
Social media and an email awareness campaign will be used to help the agency's caring team to spread the word about BEARing Gifts. They have also featured the cause in their monthly magazine, Our Hometown, which is delivered to thousands of households in the greater Houston/Humble metro area. The electronic Flipbook version of current and past issues may be viewed and shared with others at http://batesinsuranceagency.com/magazines/.
Additionally, the folks at Bates Insurance have pledged to donate a whopping $20 to the cause for each and every referral they receive for an insurance quote with no purchase necessary, making it simple for everyone in the community to support BEARing Gifts without it impacting their own wallets. Readers who would like to help kids in need have a brighter holiday season may recommend friends and family members for no-obligation, informative quotations by visiting http://batesinsuranceagency.com/causes/bearinggifts/.
Bates Insurance is truly committed to ensuring customers, friends, family and neighbors are always in good hands. The agency recently launched their master charity program, promising to support a new local organization, family or individual every two months. To learn about past campaigns and stay in the loop on what's to come, please bookmark http://batesinsuranceagency.com/community/.
About Bates Insurance Agency
With over 30 years serving the insurance needs of greater Houston area families and businesses from offices in Humble, Tim Bates is committed to bringing local people an agency which understands their needs. He and his team of caring experts have worked with carriers to assemble a variety of products and services to ensure clients' peace of mind and address risks that are otherwise not manageable. From all of the insurance products a typical consumer needs (auto, home, business, boat, ATV, etc.), to developing long-term financial planning strategies, Bates Insurance Agency delivers consistently superior service. Their dedicated professionals may be reached by calling 281-852-0611. For more information, please visit http://batesinsuranceagency.com/.