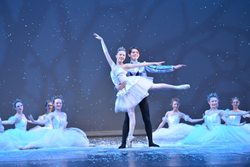 Bringing in a professional dancer like Mr. Stiller adds another tier to an already impressive production
SHEPHERDSTOWN, W.Va. (PRWEB) November 30, 2017
The Shepherdstown School of Dance will take the stage at the Frank Arts Center at Shepherd University in Shepherdstown, West Virginia on Saturday, December 16 and Sunday, December 17 for its eleventh full-length annual production of "The Nutcracker" ballet. Three performances are scheduled for 2 p.m. and 7 p.m. on December 16 and 2 p.m. on December 17.
Nearly 70 performers from the school and community will take the stage to tell the classic tale of a young girl's Christmas dreams come to life. The audience will be transported into a beloved magical world with a Christmas tree that grows, snow that falls, giant mice that battle life-sized toy soldiers, and dancing sugar plums.
Joining the cast this year, in the role of Nutcracker Prince and Cavalier to the Sugar Plum Fairy, is guest artist Ballet San Antonio dancer Mayim Stiller. Stiller began his training at Oregon Ballet Academy under the direction of John Grensbak, and he continued his training at Pacific Northwest Ballet's Professional Division and the School of American Ballet. He began his professional dancing career with the Los Angeles Ballet and is currently in his second year dancing with Ballet San Antonio.
"Bringing in a professional dancer like Mr. Stiller adds another tier to an already impressive production," said Emily Romine, artistic director of the Shepherdstown School of Dance. "Our students have the chance to witness the result of years of practice and dedication, not to mention it's quite a delight for the audience."
Tickets are available for purchase via credit card now at http://www.shepherdstownschoolofdance.com and via cash or check at Encore Apparel in Motion, located at 108 East Washington Street in Shepherdstown. Tickets are $18 in advance and $22 at the door.
For more information, call 304-886-8398 or visit http://www.shepherdstownschoolofdance.com.
About the Shepherdstown School of Dance
Founded in 2003, by Artistic Director Emily Wanger Romine and Managing Director Mercedes Prohaska, the Shepherdstown School of Dance is committed to keeping the art and discipline of classical dance alive in the community. Classes include ballet, tap, jazz/modern, and Rommett Floor-Barre. Learn more about the Shepherdstown School of Dance at http://www.shepherdstownschoolofdance.com or call 304-886-8398.
Video: https://www.youtube.com/watch?v=Ht_yvtZmLvA
Photos: Available upon request. The opportunity to setup a photo shoot is also available (during a rehearsal).
Media Contact:
Sandy Sponaugle
Platinum PR
sandy(at)platinumpr.com
cell: 304-876-8321