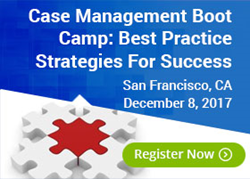 PALO ALTO, Calif. (PRWEB) November 30, 2017
Led by industry experts Toni Cesta and Bev Cunningham, ComplianceOnline's popular Bootcamp on Case Management comes to San Francisco, CA and Orlando, FL. The one day program will provide best practices on utilization management and transitional planning under the new CMS rules. Attendees will learn models for RN case managers and social workers, HINNs, Accountable Care Organizations (ACOs) and NOTICE Act.
For more information on this seminar visit the event website here.
Dates:
Friday, December 8, 2017 (8.00 AM- 5.00 PM)
Friday, February 16, 2018 (8.00 AM- 5.00 PM)
Location 1: DoubleTree by Hilton San Francisco, CA
Location 2: Orlando, FL
Registration Cost: $649.00 per registration
Early bird discounts: For discounts on early registrations, please click here.
Register by phone: Please call our customer service specialists at +1-888-717-2436 or email to customercare(at)complianceonline.com
For more information on ComplianceOnline or to browse through our trainings, please visit our website.
About ComplianceOnline
ComplianceOnline is a leading provider of regulatory compliance trainings for companies and professionals in regulated industries. ComplianceOnline has successfully trained over 55,000 professionals from 15,000 companies to comply with the requirements of regulatory agencies. ComplianceOnline is headquartered in Palo Alto, California and can be reached at http://www.complianceonline.com. ComplianceOnline is a MetricStream portal. MetricStream (http://www.metricstream.com) is a market leader in Enterprise-wide Governance, Risk, Compliance (GRC) and Quality Management Solutions for global corporations.
For more information please contact:
A Reuben Bernard
Associate Director - ComplianceOnline
2600 E Bayshore Rd
Palo Alto CA USA 94303
Phone - +1-650-238-9656 | +1-888-717-2436
Fax - 650-362-2367
Mail: reuben(at)complianceonline.com
Website: http://www.complianceonline.com