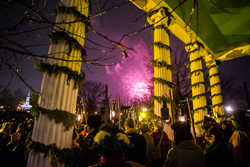 What makes this a premier holiday program is the immersive experience that we create for our guests, from the demonstrations inside the homes, to the sounds of the season around every corner
DEARBORN, Mich. (PRWEB) December 01, 2017
Starting December 1st, visitors can see why Holiday Nights in Greenfield Village presented by Citizens Bank continues to be voted a can't-miss family-friendly event each year. Tickets are going fast with all Saturdays before Christmas sold out for this authentic and immersive holiday celebration. The event runs Dec. 1-3, 8-10, 15-17, 19-23, 26-27 and 29-30 from 6:30 pm – 10 pm.
"Holiday Nights in Greenfield Village tells the story of how holiday traditions evolved through the resourcefulness and ingenuity of Americans in the past," said Patricia Mooradian, president & CEO, The Henry Ford. "What makes this a premier holiday program is the immersive experience that we create for our guests, from the demonstrations inside the homes, to the sounds of the season around every corner."
Holiday Nights in Greenfield brings 300 years of unique holiday history to life, complete with the smell of roasting chestnuts, warm bonfires, carolers, and a sighting of Santa and his reindeer before Christmas. Visitors can learn how traditions have evolved to those we still honor today, or gain inspiration for their own holiday celebrations. After watching our presenters bring traditional holiday menu staples to life, visitors can stop into A Taste of History and sample items from select homes including Ford Birthplace and Susquehanna Plantation. For those looking to do some holiday shopping, there are plenty of options, including The Henry Ford's own Liberty Craftworks glass and pottery collections, historic toys at the Main Street Emporium and an ornament shop located on Main Street.
"Experiencing the magic of Greenfield Village in all its splendor makes the Holiday Season just a little more special," said Rick Hampson, state president of Citizens Bank, Michigan. "We are so proud to be a part of this timeless celebration of the season, and honored to return for another year as presenting sponsor of the 2017 Holiday Nights in Greenfield Village."
New this year, Menlo Park will be transformed to December 1880 for an evening that changed history. Thomas Edison's famous lab will be decorated to reflect a special dinner that took place with the New York City Alderman, making the development of the world's first practical electrical distribution system into a reality. In addition to the historic event, visitors will be treated to the sounds of Edison's organ, located in the second floor of the laboratory, come to life once again.
The sounds of the season echo through the air as a variety of live performances take place including music by the Dodworth Saxhorn Band, Village singers, and dozens of carolers and choir groups from around the state. At the end of the evening, visitors are welcome to join our carolers at Town Hall for the fireworks finale accompanied by a sing-along of familiar holiday tunes.
Ticket prices for Holiday Nights in Greenfield Village are $22.00 for adult members and $16.50 for youth members, $26.00 for adult non-members and $19.50 for youth non-members. Children two and under are free. A $2 coupon is available online for select nights at http://www.thehenryford.org. To purchase tickets, call (313) 982-6001 or visit the website.
About The Henry Ford
The Henry Ford in Dearborn, Michigan is an internationally-recognized history destination that explores the American experience of innovation, resourcefulness and ingenuity that helped shape America. A national historic landmark with an unparalleled Archive of American Innovation, The Henry Ford is a force for sparking curiosity and inspiring tomorrow's innovators. Nearly 1.8 million visitors annually experience its five attractions: Henry Ford Museum of American Innovation, Greenfield Village, Ford Rouge Factory Tour, Benson Ford Research Center and The Henry Ford Giant Screen Experience. A continually expanding array of content available online provides anytime, anywhere access. The Henry Ford is also home to Henry Ford Academy, a public charter high school which educates over 500 students a year on the institution's campus. In 2014, The Henry Ford premiered its first-ever national television series, The Henry Ford's Innovation Nation, showcasing present-day change-makers and The Henry Ford's artifacts and unique visitor experiences. Hosted by news correspondent and humorist, Mo Rocca, this Emmy®-winning weekly half-hour show airs Saturday mornings on CBS. For more information please visit our website thehenryford.org.