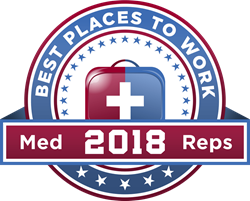 Job seekers can look at a career in medical sales with confidence knowing these companies are creating desirable workplace cultures for their employees. -- Karyn Mullins, President at MedReps
ALPHARETTA, Ga. (PRWEB) December 05, 2017
A new survey by MedReps (http://www.medreps.com), a career site for medical sales representatives, revealed CONMED, Teleflex, and Johnson & Johnson as the overall best medical sales companies to work for this year.
The 7th Annual Best Places to Work in Medical Sales survey polled more than 800 members of the MedReps community to determine the most sought-after employers in the medical sales industry, as well as what qualities and values are most important to medical sales professionals. Those values include a solid product line (44 percent), focus on innovation (22 percent) and brand recognition (11 percent).
"The key factor across all categories is the winners view their employees as their number one resource," said Karyn Mullins, president at MedReps. "Job seekers can look at a career in medical sales with confidence knowing these companies are creating desirable workplace cultures for their employees."
Notable findings from the survey include:

For the first time ever, an overall tie for the best place to work goes to CONMED and Teleflex, with Johnson & Johnson appearing in the top three for five out of the past six years.
Majority of respondents (76 percent) said the most important aspect is work/life balance when it comes to values and culture.
More than half of those surveyed (54 percent) said they seek companies that place value on team-building and collaboration.
Over half (54 percent) are very satisfied with their current job, and 46 percent are very unlikely to leave their job in the next year.
Asked for the first time this year, 15 percent of respondents selected diversity and inclusion as an important value to them.
"Current medical sales professionals from companies of all sizes and differing product lines have an appreciation for their employers," Mullins said. "For job seekers new to the industry or looking to switch product lines, the industry has a variety of options to find the perfect fit."
For more information from this survey, click here: https://www.medreps.com/medical-sales-careers/best-places-to-work/.
About MedReps
MedReps is owned and operated by Healthcare Staffing Technologies. As the leading job site in its niche, MedReps gives members access to the most sought-after medical sales jobs and pharmaceutical sales jobs on the web. Members have access to over 6,000 jobs and can apply directly to the recruiters and hiring managers who post them. For more information on the No. 1 site for medical sales, marketing, and management careers, please visit MedReps.com.