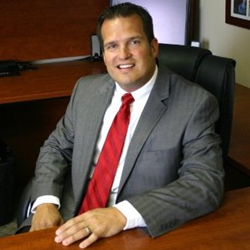 FRANKLN, Wis. (PRWEB) December 07, 2017
Microbial Discovery Group LLC (MDG) http://www.mdgbio.com is pleased to announce the newest addition to their Biotifx™ wastewater sales force: Luke Mickelson. The addition will help further advance MDG's growing collection of regional and national accounts. Luke comes to MDG with a wealth of knowledge and experience in the wastewater field after spending the last 18 years in several different roles at a regional waste treatment company. In addition to his tenure at WATERTECH Inc., last serving as the Executive Vice President of Sales and Marketing, Luke has served on the AWT wastewater sub-committee and was a CEU certified water and wastewater treatment instructor, training operators on the processes of water and wastewater polymer selection and applications.
Luke, a proud Idaho resident and skilled sturgeon fisherman, is joining team MDG as the Western Region Territory Account Manager where he will have a direct impact on continuing the mission of implementing bioagumentation in wastewater treatment facilities. When asked about what he is most excited about in joining MDG, Luke commented, "I am fascinated with what the microbial field offers. I see MDG as an innovative and pioneering company that I have always wanted to be a part of. My desire to be on the cutting edge of technology is a trait that I think I share with MDG." Luke is a graduate of Idaho State University and is supported by his wife, Heidi, and their three children.
"Luke's 18+ years of sales and technical service experience in the water and wastewater markets, along with his business knowledge has made him a key addition to the MDG wastewater team. With our new programs and innovations, along with the increasing demand from industry to find science-based solutions to wastewater problems makes Luke a key fit. I'm confident that Luke will not only grow our business, but also grow the business and profitability of our distribution partners." – Ardean Veldkamp, Business Development Manager at MDG
About Microbial Discovery Group
Microbial Discovery Group is a Bacillus fermentation company focused on the commercialization of microbials for wastewater, bioremediation, aquaculture, consumer and institutional markets while additionally partnering with customers to fulfill their custom fermentation needs. MDG refines and delivers products and ideas by applying Real Science to a Trusted Process, yielding Proven Success. For more information on Microbial Discovery Group, visit http://www.mdgbio.com.