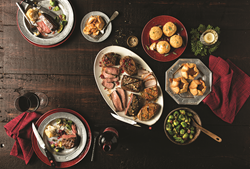 OMAHA, Neb. (PRWEB) December 05, 2017
Last minute dashes to the grocery store and spending too much time on food preparation top the list of holiday stressors according to a recent OnePoll general population survey commissioned by Omaha Steaks, the nation's leading purveyor of premium all-American beef and gourmet foods.
The survey found that over 50 percent of Americans put themselves under a lot of pressure to make things perfect for Christmas, and nearly 75 percent think it affects their enjoyment of the holidays.
In response to these findings, Omaha Steaks has created customizable meal and gifting packages, designed to take the stress out of shopping and preparing holiday meals, leaving more time to celebrate with family and friends.
One package perfect for your holiday gathering is the Savory Seasonal Selections package that includes a prime-rib roast, stuffed baked potatoes, filet mignon bites and our sensational new Sticky Toffee Pudding for dessert.
Savory Seasonal Selections (52127)
4 lb. Bone-In Prime Rib Roast
8 (5.5 oz.) Stuffed Baked Potatoes
2 (9.5 oz. pkgs.) Brussels Sprouts with Bacon & Shallots
12 (7.75 oz. pkg.) Filet Mignon Bites
4 (4.9 oz.) Sticky Toffee Pudding Cakes
Combo price: $179
The survey also cited that convenience (46.40 percent) and showing a gesture of thanks or appreciation (44.59 percent) were the top reasons why respondents send gourmet holiday food gifts. Omaha Steaks offers a complete assortment of holiday packages like the Tasteful Gift designed to provide the perfect, no-stress alternative to shopping the malls.
The Tasteful Gift (4700)
2 (5 oz.) Filet Mignon
2 (5 oz.) Top Sirloins
2 (4 oz.) Boneless Pork Chops
4 (3 oz.) Potatoes Au Gratin
4 (4 oz.) Caramel Apple Tartlets
1 Packet of Omaha Steaks Seasoning
Combo Price: $69.99, including free shipping
"All of our meal packages include a center of the plate main dish, side dishes and dessert – everything you need to enjoy a delicious holiday meal with family or friends, without spending hours in the kitchen," said Senior Vice President and Family Owner Todd Simon. "And gifting an Omaha Steaks experience is effortless with our variety of packages that ship directly to the recipient and every package is the gift of an occasion – a reason to gather and celebrate with family and friends."
In order to guarantee delivery before Christmas, Omaha Steaks is encouraging customers to place orders before Dec. 18, but expedited shipping options also are available for late orders. Omaha Steaks retail stores will offer extended hours from December 8 through December 23.
To select your delivery date, or for more information about Omaha Steaks complete holiday meal and gifting packages visit http://www.OmahaSteaks.com.
About Omaha Steaks
Omaha Steaks, founded in 1917, is an Omaha, Nebraska-based, fifth-generation, family-owned company that markets and distributes a wide variety of the finest quality USDA-approved, grain-fed beef and other gourmet foods including seafood, pork, poultry, side dishes, appetizers, complete meals and desserts. Today, Omaha Steaks is recognized as the nation's largest direct response marketer of premium beef and gourmet foods, available to customers by calling 1-800-228-9055, online at http://www.OmahaSteaks.com or at retail stores nationwide.