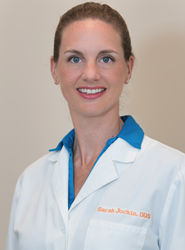 Every general dentist who does extractions should incorporate grafting into their practice.
LUTZ, Fla. (PRWEB) December 07, 2017
Esteemed general dentist in Lutz, FL, Dr. Sarah Jockin, highlights the benefits of bone grafting, including the importance of socket preservation and platelet rich fibrin (PRF), during her interview with Dentsply Sirona World News. Dr. Jockin and her experienced team at Lake Park Dental offer general and cosmetic dentistry services, laser-assisted treatment, and dental implants at their state-of-the-art facility.
Patients who experience tooth loss may also discover that adjacent teeth are shifting, or the jaw bone ridge of the empty tooth socket is sinking. When a tooth root is no longer present to stimulate the jaw bone, it begins to recede and create further problems to the area and surrounding teeth. Bone grafting can successfully restore adequate volume back to this area of the jaw bone to prepare for dental implant placement. Technology of today enables dentists to provide patients with highly effective and safe bone material and PRF to accelerate healing and integration of the bone grafting site.
Patients who require a tooth extraction can benefit from socket preservation. "Socket preservation is a grafting procedure that doesn't take very much time or a big inventory, but it's a fabulous service to the patient," said Dr. Jockin during her interview. Socket preservation involves taking safe bone material and filling the empty tooth socket to reestablish the original bone volume in the jaw. Adequate bone volume is generally necessary before a dental implant can be placed.
PRF is a substance made from a patient's blood and placed in the bone graft site to encourage integration of the new and old bone and faster healing. Dr. Jockin has received extensive training in hard and soft tissue grafting, and her team utilize PRF in bone grafting procedures and other surgeries to increase the rate of success and provide better long-term results for patients.
Dedicated to offering her patients the treatments they need to restore the look and function of their smiles, Dr. Jockin stated, "Tooth replacement is my passion. Every general dentist who does extractions should incorporate grafting into their practice."
Dr. Jockin and her team at Lake Park Dental welcome new patients with missing teeth and patients in need of tooth extractions to experience the benefits of bone grafting, socket preservation, and PRF. Patients looking for a new dentist in Lutz, FL, can call Lake Park Dental during normal business hours at 813-527-9890.
About the Practice
Lake Park Dental is a general dental practice offering personalized and experienced dental care to patients in Lutz, Florida. Drs. Sarah Jockin, Sara Spear and Ashley Nati understand how important receiving comfortable and reliable dental care is, which is why they strive to create a welcoming and enjoyable environment at their state-of-the-art practice. Lake Park Dental offers skilled and comprehensive care utilizing the latest advancements in dental technology all at one office to provide convenient treatment patients can depend on. Dental implants, cosmetic dentistry, Invisalign® and laser dentistry, among other services, are all offered at Lake Park Dental. More information about Drs. Jockin, Spear and Nati or the services they offer can be found on their website at http://www.implantdentisttampa.com. Those interested in scheduling a consultation can call (813) 527-9890.