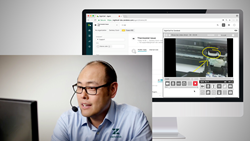 We've made our mission to help companies support their customers better by transforming support centers from complaints departments to solutions departments. The partnership with Zendesk was a natural move to provide an unmatched experience and make it easy for any support representative to escalate
SAN FRANCISCO (PRWEB) December 12, 2017
SightCall, the global AR video assistance leader, is proud to announce today the launch of their brand-new integration with the leading customer support software, Zendesk, Inc. to help organizations build better customer relationships. The combination of the two solutions provides an unmatched customer service experience where agents can see customer's problems and guide them to an instant resolution.
In a mobile-first world, customers' expectations are constantly growing while their patience and available time diminish. Businesses need to continually evolve and improve their delivery tools for customer support and improve their responsiveness to provide customers with immediate solutions.
The SightCall for Zendesk application allows agents to escalate any email, phone, chat or social communication into a video assistance session to better understand their customer's issues, thus improving resolution time. The app will provide users with:

The option to engage in a live video assistance session from an agent using Zendesk Support, with one click using the SightCall widget for Zendesk, without changing windows
Access to SightCall's AR Guidance features including live annotations, remote zoom or remote flashlight
Automatic saving of pictures and call logs to the Zendesk ticket
Of the announcement, SightCall CEO, Thomas Cottereau commented, "We've made our mission to help companies support their customers better by transforming support centers from complaints departments to solutions departments. The partnership with Zendesk was a natural move to provide an unmatched experience and make it easy for any support representative to escalate customer interactions into live video assistance sessions on the spot."
SightCall for Zendesk helps organizations of all sizes reach the next stage of customer service, by empowering service teams with the ability to see and guide remotely the problem to resolution. The SightCall for Zendesk app is available in the Zendesk marketplace https://www.zendesk.com/apps/. Free trials are offered to Zendesk customers.
For more information on the Sightcall for Zendesk app, have a look at our video here or on our website there.
About SightCall
SightCall is the leading global Video Cloud platform delivering live rich interactions between business and customers. The Augmented Reality powered Video Assistance offered through SightCall is transforming the way companies are interacting with their customers and field forces. In a connected mobile-first world, businesses leveraging SightCall can see what their customers see and guide them remotely. The advantages for companies include getting a better view of the problem or the damage, which leads to better and faster resolution. SightCall provides connectors that can be easily plugged into business applications such as Salesforce and mobile apps. Learn more at http://www.sightcall.com
About Zendesk
Zendesk builds software for better customer relationships. It empowers organizations to improve customer engagement and better understand their customers. Approximately 114,000 paid customer accounts in over 160 countries and territories use Zendesk products. Based in San Francisco, Zendesk has operations in the United States, Europe, Asia, Australia, and South America. Learn more at http://www.zendesk.com.