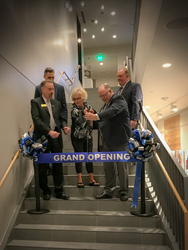 GOLDEN VALLEY, Minn. (PRWEB) December 08, 2017
The City of Golden Valley new Brookview Community Center is now open! Key project stakeholders, city employees and the project team, HGA Architects and Adolfson & Peterson Construction (AP), held a soft opening and ribbon cutting ceremony Thursday, November 30 to celebrate the project's success. Friday, December 1 the much-anticipated new Brookview was filled with hundreds of excited community members eager to tour the beautiful space.
The original 1920s Brookview Community Center had been expanded and remodeled several times; but with critical repairs looming, the City decided to invest in a new building which would better suit the community's needs. AP began construction of the new 37,000 sf Brookview building in October 2016. The new Brookview includes: two golf courses (18-hole regulation and par 3), a driving range, a putting green, an eight-rink lawn bowling green that can accommodate up to 64 players, a golf shop and expanded locker rooms; a full-service restaurant adjacent to the outdoor patio, fire pit and deck with a family-friendly atmosphere and gorgeous view of the golf course; a multi-level indoor playground for kids ages 2-12 with slides, crawl tubes, cargo climbs, bumper balls, log rollers, cave crawls and more–also features two small party rooms within the play area; full-service banquet capabilities in the main room for up to 228 people, featuring floor to ceiling windows with spectacular views of the golf course and two adjacent decks which allow guests to enjoy both indoor and outdoor spaces, as well as three additional small group/meeting rooms; and offices for Golden Valley's Seniors Activities and Parks and Recreation staff.
Special project features include a mid-century modern inspired structure type design; two glue laminated pine trellises with beams up to 60-feet long; and new Par 3 and lawn bowling starter shack. Sustainable features include interior oak paneling reclaimed from older building stock; white roofs and light-colored terraces on top of the building for reduced heat island effect; new stormwater management system; and new natural slope connection to golf course.
Centrally located with expansive golf course and sunset views, the beautiful new Brookview offers a modern, versatile indoor and outdoor space for all occasions.
About AP
Adolfson & Peterson Construction (AP) is a U.S.-based, privately held firm that is consistently ranked among the top 50 construction managers and general contractors in the nation. Founded in 1946, the company has built longstanding commitments to the regions in which it operates and is known nationally for its innovative and collaborative approaches within the building industry. AP serves the education, multifamily, healthcare, commercial, municipal and senior living market segments from its offices in Dallas, Denver, Minneapolis and Phoenix. For more information, visit http://www.a-p.com and follow us on Facebook, LinkedIn and Twitter.