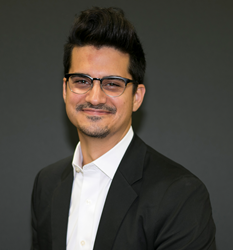 NASHVILLE, Tenn. (PRWEB) December 14, 2017
In his new role as General Manager – Heritage Nashville, Ghafoori will leverage his nearly decade-long industry experience to focus on innovating the core business strategy, as well as extending that innovation to new business for Heritage, both in Nashville and nationally. During his tenure with Heritage, Ghafoori has managed the successful development and implementation of key Heritage standard operating procedures while at the same time has diligently worked to ensure success for our clients. His client experience has ranged from Fortune 500 corporate events to large scale national association events during his tenure at Heritage Trade Show Services.
Marc's positive, can-do attitude, ability to work as a key team leader and proven ability to develop long-term client relationships make him a natural fit for this position," said Ryan Yemm, VP and GM of Heritage Trade Show Services. Ryan continued, "We are very excited and confident in this opportunity for Marc. The team in Nashville that he will be leading is exceptional and the overall market potential is unlimited."
Heritage's Nashville branch opened its doors in 2013 and has quadrupled in terms of overall capacity and actual production of annual events, both in Nashville and on a national level. Marc will lead a team of industry veterans and experts that know how to exceed the very high and leading-edge expectations set by our clients. Conveniently located in the Mid-South Region, Heritage Nashville is strategically positioned to service events throughout the country putting 25 states within a one day point. Its highly capable workforce, aggressive growth initiatives and business friendly environment combine to make the city a perfect partner for Heritage.
Marc earned a Bachelor of Architecture degree from the Illinois Institute of Technology, with a specialization in City and Regional Planning. He is an active participant in IAEE, ESCA and PCMA events and anticipates working closely with the Nashville chapters of each organization along with other local and regional organizations. Marc and his family will be relocating from Heritage's National Headquarters in Saint Louis, Missouri to Nashville.
Heritage Trade Show Services is a full-service exposition contractor providing services to meeting planners throughout the country since 1963. Heritage maintains several fully equipped warehouses, servicing clients nationwide. All equipment and services required by individual exhibitors and/or show management, including complete in-house state of the art graphics, rental furnishings, aisle/area carpet, custom rental displays, floral, freight and I&D labor services are handled directly by Heritage. Our many years of experience in the trade show industry have awarded us a staff of dedicated professionals, experienced in all aspects of convention and trade show contracting.
Press Contact:
Chris Lorenz
Chris.Lorenz(at)HeritageSVS.com
314-534-8500