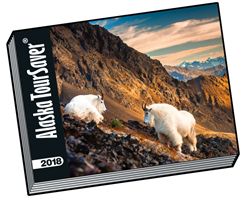 After 20 years of publication, more than 80,000 travelers have used the Alaska TourSaver travel coupon book to hedge the cost of Alaska adventures.
ANCHORAGE, Alaska (PRWEB) December 12, 2017
Is 2018 the year to finally will visit Alaska? Cruise rates are more affordable and there are very competitive airfares between the "Lower 48" and Alaska. But what can travelers do about the high cost of tours, transportation and accommodations?
The cost of shore excursions, fishing trips, glacier cruises and train rides add up quickly. After 20 years of publication, more than 80,000 travelers have used the Alaska TourSaver® travel coupon book to hedge the cost of Alaska adventures. There are more than 110 offers included in the booklet, which sells for $99.95 (it's also available as an App on for iPhone/iPad). Most offers are two-for-one/buy-one-get-one-free, but there are several "bonus offers" for other popular trips. With more than $17,000 in travel savings, there are tours and adventures that appeal to a wide variety of tastes.
The Alaska TourSaver® book is organized into regional areas: far north, southcentral (including Anchorage), the inside passage (Juneau and Ketchikan) and western Alaska. Here are some popular offers:
Far North:

Riverboat Discovery. Take a paddlewheel riverboat for a ride on the Chena River!
Gold Dredge 8: Guaranteed gold! Visit a vintage gold dredge and learn about the mining history of Fairbanks.
Borealis Basecamp northern lights viewing: see the aurora from the comfort of your own private cabin, laying in bed!
Inside Passage:

Helicopter flightseeing with a landing on the Taku Glacier from Era Helicopters.
Take a zipline through the rainforest in both Juneau and Ketchikan with Alaska Canopy Adventures.
Go fishing in Juneau with Alaska Galore Tours.
Hop aboard a float plane to see Misty Fjords National Monument in Ketchikan with Taquan Air.
Southcentral:

ALL ABOARD the Alaska Railroad between Anchorage and Seward, Fairbanks, Talkeetna and Denali Park
Heli-picnic at the Sheldon Mountain House on the slopes of Denali.
Take a glacier and wildlife cruise in Kenai Fjords National Park with Major Marine Tours
Catch halibut and salmon in Homer, Seward or along the Kenai River with Ninilchik Charters
Hike on a glacier, go flightseeing and stay overnight in the heart of Wrangell-St. Elias National Park with Kennicott Glacier Lodge.
Western Alaska:

Fly from Anchorage to Nome on Alaska Airlines and get a tour of Nome, Alaska (with overnight option) from Explore Tours
Take a all-day tour in Katmai National Park to the Valley of the 10,000 Smokes.
Travelers can explore the Alaska TourSaver website using the "travel savings calculator" to see how much can be saved on trips with the coupon book. Online, there's also a full list of the offers in the book.
The App version of the Alaska TourSaver® allows travelers to chose from four different versions: Statewide, Inside passage, Southcentral/Interior or Juneau (iPhone/iPad only).
Although it's up to travelers to make their way to Alaska to take advantage of the TourSaver, free travel tips are available at AlaskaTravelgram.com. SIgn up for the free email travel newsletter online.