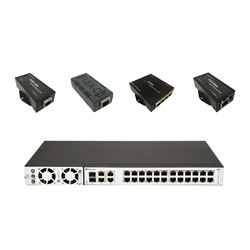 "The FLEX4 is the perfect addition to help us expand our product offering, making sure we have a solution for every customer."
(PRWEB) December 15, 2017
The FLEX4 Adapter, when paired with the FLEX24 or FLEX-Base, delivers Ethernet and high-power PoE (up to 50W) to 2,000ft (610m). Businesses can quickly enable 4 IP endpoints with PoE, from a single 2- or 4- pair long-run UTP cable with the FLEX4 Adapter.
NVT Phybridge recently introduced the FLEX 24-port Managed PoE Switch and FLEX-Base Extender. The award-winning enterprise grade FLEX24 switch delivers Ethernet and high-power PoE, up to 50W, over 2- or 4-pair UTP cable, with 2,000ft (610m) reach.
The FLEX-Base, when paired with the FLEX-Link or FLEX4, creates a robust, single-port extender solution leveraging the downlink port of an existing PoE switch. In addition to being sold separately, the FLEX-Base Extender is available with a FLEX-Link or FLEX4 Adapter to make up a single-port Extender Kit. As part of the FLEX4 launch NVT Phybridge is offering additional discounts on all Extender Kits.
"When migrating to IP, businesses face major challenges as they look to connect IP endpoints to IP applications given the 328ft reach of standard Ethernet switches. NVT Phybridge designed the FLEX Family to help customers gracefully migrate to IP eliminating risk, high cost, network complexity, and security concern," said John Croce, CEO of NVT Phybridge. "The FLEX4 is the perfect addition to help us expand our product offering, making sure we have a solution for every customer."
The FLEX4 Adapter's unique ability to connect up to 4 IP endpoints from a single multi-pair UTP run provides many application options:
1. The ability to extend coverage across multiple locations given the 328ft (100m) reach from the FLEX4 adapter to the IP endpoint.
2. The ability to deploy multiple complementary IP endpoints in a specific location for maximum security.
Visit our website or contact us for more information on how the FLEX family of Long Reach PoE solutions can help make your IP migration quick, easy and cost-
effective.
About NVT Phybridge
NVT Phybridge is the leader in Power over Long Reach Ethernet (PoLRE), making IP connections in far places quick, easy and cost-effective. Our CHARIoT Series of switches help customers migrate to an IP-based network, transforming the existing or new infrastructure into an IP path with power. We are a North American-based technology company with global reach dedicated to practical innovation. Our number one priority is bringing innovative and affordable solutions to market that are technologically advanced as well as practical for the customer.